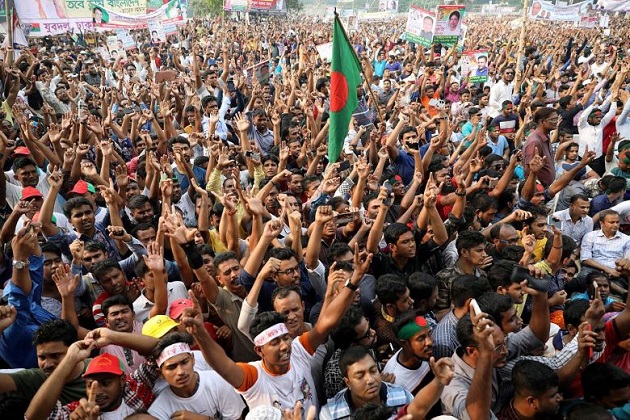 Bangladesh will hold its general election on December 23 and for the first time will use electronic voting machines on a limited scale.  "The 11th general election will be held across Bangladesh on December 23," Chief Election Commissioner Nurul Huda said in a nationally televised address.
The candidates have to submit their nomination papers between November 9 and November 19. The nomination papers will be scrutinized on November 22.
Nearly 104.2 million people, including a little more than 51.6 million women, are registered as voters. They will elect 300 representatives to Parliament through the balloting in about 40,199 polling stations.
The Election Commission plans to use 150,000 EVMs in at least 100 randomly selected constituencies across the country during the vote, the Dhaka Tribune reported.
As many as 600,000 members of the police, BGB, Bangladesh Coast Guard, Ansar and Village Defence Party will be deployed for law enforcement. The army will also be deployed to assist the civil administration.
The ruling Awami League and its main ally Jatiya Party welcomed the announcement with League activists staging a street march supporting the polls.
Opposition parties have expressed concern that the polls will not be democratic and have threatened protests.
Detained opposition leader and Bangladesh Nationalist Party (BNP) chief Khaleda Zia were sent back to jail a few hours before the announcement, after a month of treatment in hospital.
Seventy-three-year-old Zia is serving a 10-year jail term in two graft cases. She is unlikely to contest due to her imprisonment and has virtually no time to appeal.
A court had handed down a life sentence to BNP acting chairman and Zia's "fugitive" son Tarique Rahman two months ago, for masterminding a deadly 2004 grenade attack that killed 24 Awami League leaders and activists.
The BNP boycotted the last election in 2014 over fears it would be rigged. The Awami League, headed by Prime Minister Sheikh Hasina, won the election in 2014.