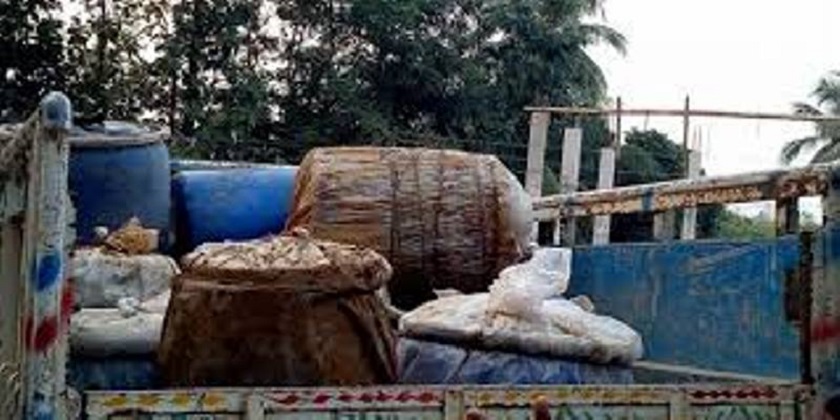 Tripura Police along with Tripura State Rifles recovered 1643 kg of dry ganja worth Rs 82 lakh hidden underground in houses as well as in a jungle bordering Kalamchora in Sepahijala district of Tripura.  The police during its massive hunt could locate the ganja kept in 46 plastic barrels and several packets and sacks under the floors of houses and in the jungle area of Kapalitill. The massive search operation was conducted manually and also with the help of JCB for digging and recovered around 1643 kg of dry ganja with a market price around Rs 82 lakh.
Of late it has come to light that Organised cultivation and harvesting of ganja for commercial purpose in Tripura as a new trend. Security agencies are closely monitoring the development in the Eastern sector in partnership with Tripura Police and other enforcement agencies and paramilitary forces. It has been observed that cultivation of ganja is taking place in the hilly tracts and jungles of Tripura under the thick foliage of rubber plantations, the agency said.
With the close proximity of Bangladesh and Myanmar, Tripura has been used as a drug and contraband smuggling corridor for over a decade. Cannabis cultivation became rampant in the bordering sub-divisions of the state, which grew as an alternative source of economy. In a period of around eight months, the Tripura Police and other security forces recovered around 60,000 kilograms of dry marijuana besides other drugs and contraband.