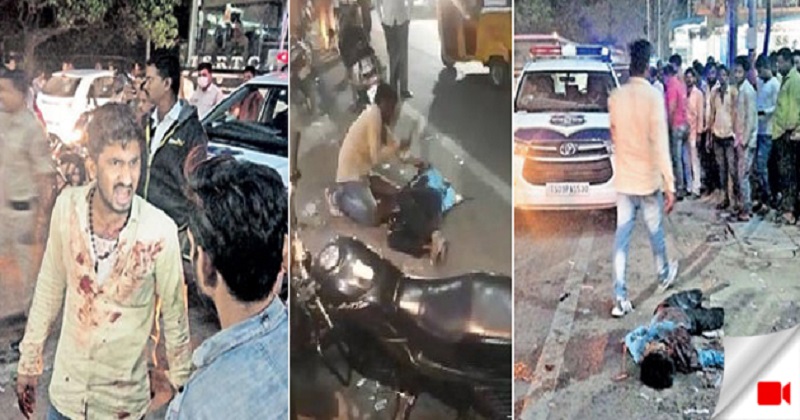 An autorickshaw driver stabbed his friend multiple times on his neck, head and chest using a butcher's knife till he stopped moving in the old city of Hyderabad on Wednesday night.
Several onlookers filmed the gory murder in the middle of a busy market near Charminar, but nobody mustered the courage to intervene. The videos were soon put on social media and were shared thousands of times within hours.
The videos showed 29-year old Abdul Khaja hacking Shakeer Qureshi, also an auto driver, to death as some passers-by made videos while others – bikers and pedestrians alike – stopped but decided to move on.
A couple of police constables were also present at the scene but did nothing to stop the attack. One traffic cop did make an attempt, and hit Khaja on his back, but retreated.
As Qureshi fell on the ground, blood-guzzling out, Khaja sat beside him, his shirt too soaked in his blood. But he did not stop stabbing, the knife movement only interspersed by his shouts of why he deserved to be killed.
"He would come and rape my mother and sister repeatedly. I am ready for any kind of punishment to protect my family," he can be seen shouting on the video.
Hyderabad police told Hindustan Times that the Khaja was arrested within 10 minutes from the spot. Officials said Khaja was drunk and a previous enmity was the motive for the murder.