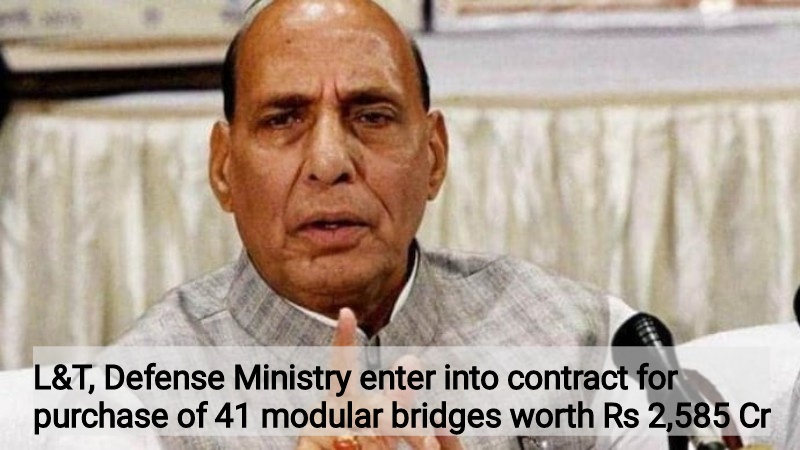 The Ministry of Defense has approved the proposal for the indigenous manufacture of 41 sets of modular bridges for the Corps of Engineers of the Indian Army, providing a significant boost to the indigenization of defence equipment under Prime Minister Narendra Modi's vision of 'Aatmanirbhar Bharat.'
Defense Research and Development Organization (DRDO) designed and developed these game-changing bridges, and Larsen & Toubro (L&T), a DRDO-nominated production company, will produce them. On February 8th, L&T and I agreed to a contract for the purchase of modular bridges, which is expected to cost over Rs 2,585 crore.
Seven carrier vehicles based on 8×8 Heavy Mobility Vehicles (HMV) and two launcher vehicles based on 10×10 HMV are required for each set of modular bridges. Each set must be able to mechanically launch a 46-meter assault bridge with a single span and full decking.
The bridge's quick launching and retrieval capabilities allow it to be used over a variety of obstacles, including canals and ditches. The equipment can keep up with wheeled and tracked mechanised vehicles and is incredibly mobile, versatile, and tough.
The Army will no longer use the manually launched Medium Girder Bridges (MGB) in favour of the modular bridges. The modular bridges made in-country will be superior to MGB in many ways, including increased span, quicker construction, and mechanical launching with retrieval capability.
The purchase of these bridges will significantly improve the Army's ability to cross on the western front. The project will serve as a showcase for India's advancements in the design and development of top-notch military hardware and pave the way for increasing defence exports to friendly nations.