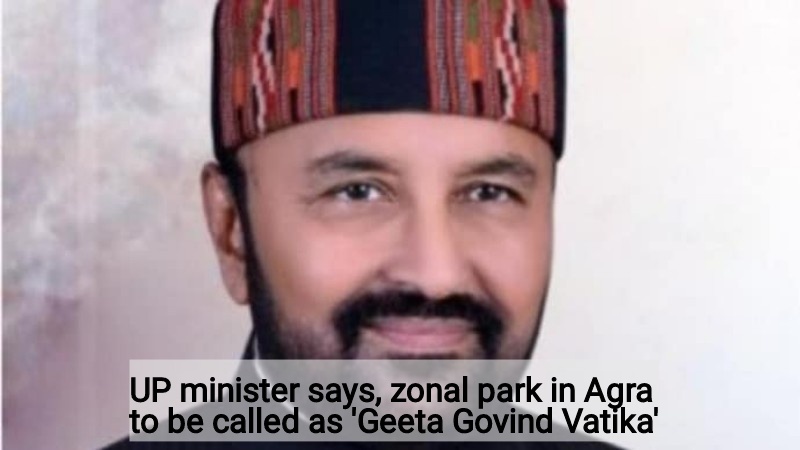 Yogendra Upadhyay, an Agra MLA and the Minister of Higher Education for Uttar Pradesh, gave the name 'Geeta Govind Vatika' to a zonal park that the Agra Development Authority created on a plot of land that is roughly 17 acres.
The Agra Municipal Corporation is in charge of maintaining the roughly a dozen small and large government parks in Agra, Uttar Pradesh, which go by various names.
Yogendra Upadhyay said, 'Efforts will be made that tourists coming to Agra to visit Taj Mahal should also visit 'Geeta Govind Vatika', for which many attractions will be developed here.'
'Recently, Agra's first 'chowpatty' has started here, and soon boating facilities will also be available in the adjoining lake,' he added.
The zonal park, according to Minister Yogendra Upadhyay, should now be called 'Geeta Govind Vatika.' He claimed to have suggested this during a meeting with the administrative staff of Agra.
He continued by saying that in keeping with the Braj culture of the early Krishna era, plants like tulsi, kadamba, etc. should be planted in order to make the location a well-liked tourist destination.
Vishal Sharma, secretary of the Agra Tourist Welfare Chamber, said that the Shahjahan Garden, which is close to the Taj Mahal, could have been improved if the goal was to draw tourists.
Shah Jahan Garden, which the minister has named 'Geeta Govind Vatika,' is allegedly more accessible to tourists than the zonal park, according to Vishal Sharma. The Taj Mahal and the main road are both far away from it.
Shahjahan Garden is also known as Motilal Nehru Garden in official documents, but Shahjahan Garden is the name most people use to refer to it.
Secretary Vishal Sharma asserted that 'the administration ought to consider developing this garden as a nighttime attraction after the Taj Mahal is closed to visitors.'