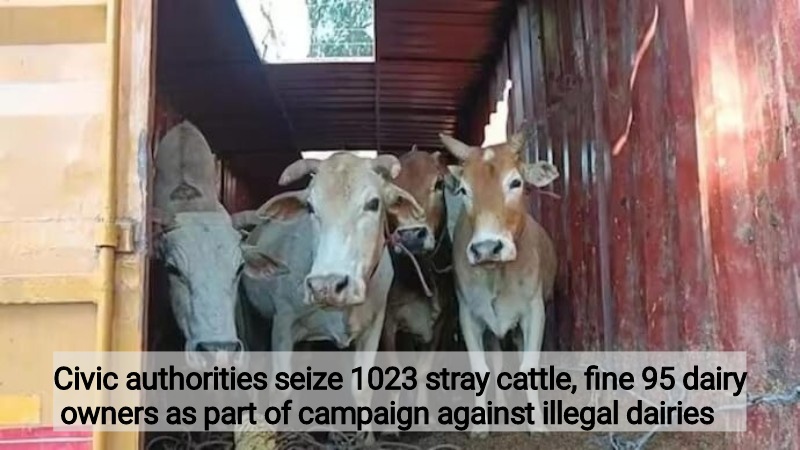 The Municipal Corporation of Delhi (MCD) has sealed 16 illegal dairies in each of its 12 zones since February 1 as part of its strict action against owners of illegal dairies in Delhi. During the same time, at least 95 dairy owners have also been charged with crimes and fined. In Ganga Vihar, an illegal dairy was shut down.
The MCD's veterinary services division has seized 1023 stray cattle across its 12 zones, and after they were ear-tagged, they were sent to designated gaushalas for continued care.
To stop the threat of stray cattle on Delhi's streets, which is brought on by these illegal dairies, MCD is taking action against those dairies. The MCD has warned those operating illegal dairies in urbanised areas that harsh action is being considered against them.
Urbanized areas with illegal dairy operators are asked to remove their operations from the property. The Municipal Corporation of Delhi has decided to take strict measures against illegal dairies starting on March 1. Without giving notice, it will seize the milk and take the necessary legal action.
The department of veterinary services is devoted to addressing the issue of stray cattle and illegal dairies operating in the urbanised area. In the upcoming days, stricter measures will be implemented.
The menace of stray cattle causes traffic jams and seriously jeopardises public safety. The Municipal Corporation of Delhi launched a significant initiative to impounded stray cattle from February 1 until today in order to address these issues.
The department has also taken action against illegal dairies operating in populated areas that pollute the water supply by allowing cow dung and urine to run into the drains.
A number of areas, including Toddapur, Pan Mandi, Nabi Karim, Budh Vihar, Sector-23 Rohini, Sabholi, RK Puram, Sarita Vihar, Malka Ganj, Ganga Vihar, Sector-16 Rohini, Vasant Kunj, and Gokalpuri, have had stray cattle captured by the veterinary services department.