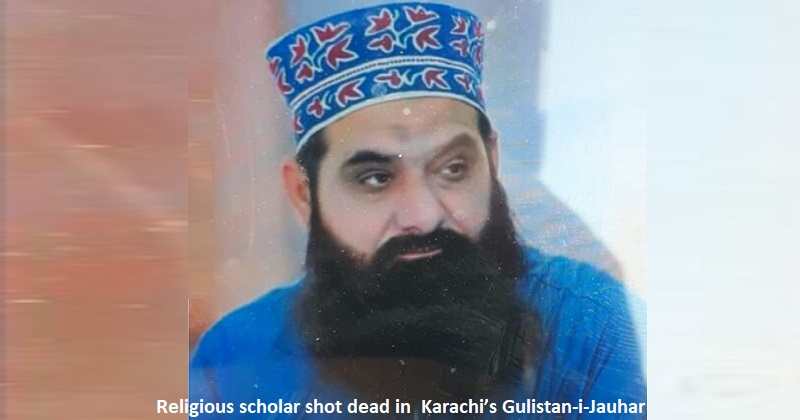 A cleric was murdered in a shooting incident at a mosque in Karachi's Gulistan-i-Jauhar neighborhood on Tuesday morning. The slain cleric was identified as Mufti Abdul Qayum, 45, a member of the Sunni Ulema Council, according to the local police who are investigating the crime. In Block-9 of the neighborhood, the clergyman was shot and killed by unidentified males riding pillion on a motorcycle. The incident happened this morning at around 7 a.m., and the body was sent to Jinnah Postgraduate Medical Center to complete the necessary paperwork. The East-SSP, Zubair Nazeer Shaikh said that it was a targeted killing incident.
He added that the scholar was walking when two pillion riders shot him in the head from close range and took off. According to the SSP, the victim was linked with eminent religious scholar Mufti Munibur Rehman. Scholar Munib stated in a statement regarding the case that Allama Sufi Abdul Qayum was a well-known Ahle Sunnat religious figure. According to the statement, the victim was Khateeb, the head of the Islamic Center in Architect Society in Gulistan-i-Jauhar and the Jamia Masjid Muhammadia Noorania.
He was also the head of the Ladies Islamic Mission University in Gulshan-i-Iqbal and a former instructor at the Gulshan-i-Iqbal seminary where Jamia Anwarul Quran was taught. He was shot in the head as he was leaving the mosque after saying his Fajr prayers, according to Dawn. The professor said in the statement that Saylani Welfare International Trust had been awarded permission to build a mosque by the APP Society in Gulistan-i-Jauhar, Block-8.