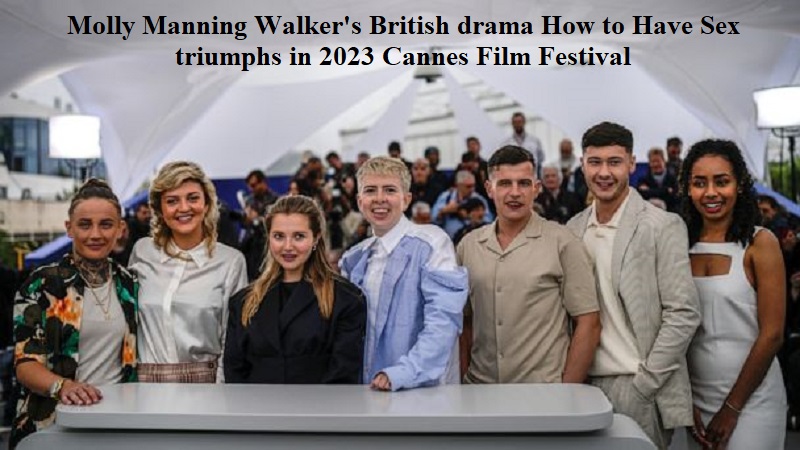 Molly Manning Walker's British drama "How to Have Sex" emerged as the winner in the Un Certain Regard competition at the ongoing 2023 Cannes Film Festival. However, the moment of triumph was accompanied by a minor mishap. Molly Manning Walker, the talented director behind this remarkable debut feature, was unfortunately absent when the award was announced.
She was on her way from Italy but faced an unforeseen delay at the airport. In an effort to keep the audience engaged during the wait, jury president John C. Reilly took the initiative and delighted everyone by singing a song.
The film revolves around the experiences of three British teenage girls who go on a holiday with the intention of indulging in drinking, clubbing, and pursuing romantic encounters.
Eventually, Molly Manning Walker made a grand entrance onto the stage, dressed comfortably in a T-shirt and jogging shorts. Out of breath from her sprint, she humorously exclaimed, "I just ran here from Italy, guys." She shared her clear vision for the film, which aimed to offer a narrative told from the perspective of young women. She expressed her hope that the movie would spark essential conversations about consent and the nature of fulfilling sexual experiences.
"How to Have Sex" has received highly positive reviews after its Cannes premiere, boasting an impressive 95% rating on Rotten Tomatoes. Robbie Collin from The Daily Telegraph praised the film, emphasizing that it goes beyond being a mere teaching aid and treats its characters with care and moments of grace and delight. Guy Lodge from Variety commended Molly Manning Walker's precise exploration of the minefield of sexual education and consent for a post-#MeToo generation. Charles Bramesco from Decider noted that while the subject matter may seem unremarkable, Walker's adept choices capture the complexities of this social minefield with accuracy.
Overall, "How to Have Sex" has garnered critical acclaim for its compelling storytelling and thought-provoking approach, resonating with audiences and sparking important discussions.