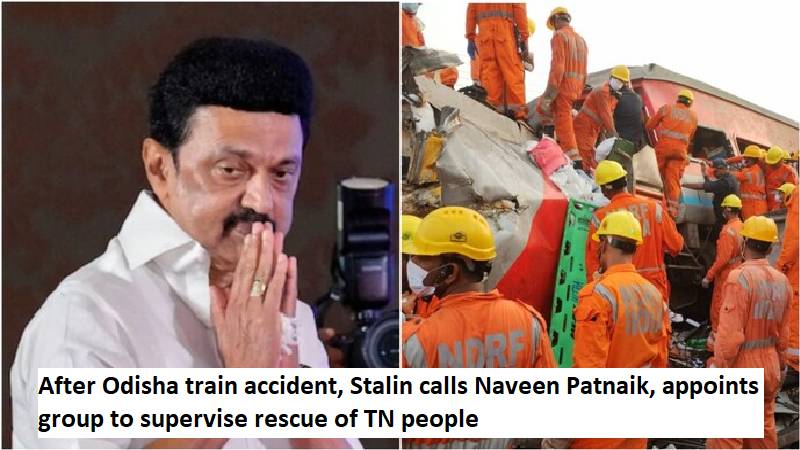 Following the terrible railway tragedy involving the Coromandel Express train, MK Stalin, the chief minister of Tamil Nadu, called to his counterpart Naveen Patnaik, the chief minister of Odisha, on Friday. Later, Stalin made the announcement that he had appointed a four-person team to organise the Tamils' rescue from the train.
According to available records, the train disaster, which has at least 280 verified deaths, is the fourth deadliest in India. Around 7 p.m. on Friday, the accident took place close to the Bahanaga Baazar station in the Balasore district, which is located roughly 250 kilometres south of Kolkata and 170 km north of Bhubaneswar.
On the approach to Howrah, several coaches of the 12864 Bengaluru-Howrah Superfast Express derailed and landed on nearby tracks, an official told PTI. Stalin stated that he spoke to Patnaik and described the information provided by the latter as 'worrying' after expressing dismay over the accident.
'I have asked Transport Minister SS Sivasankar and 3 IAS officials to rush to Odisha to rescue the Tamils involved in the accident. Have directed setting up a helpline,' he added. Stalin expressed his sorrow over the loss of life and assured Naveen Patnaik that Tamil Nadu will provide every assistance that it could.
According to him, district officials and a number of IPS and IAS personnel were also dispatched to the scene of the accident. Stalin added that a special train had been planned to transport the passengers who had been left stranded as a result of the disaster.
He claimed that the State Emergency Control Room had already been operating since Friday night and that it had been helping the passengers ever since.