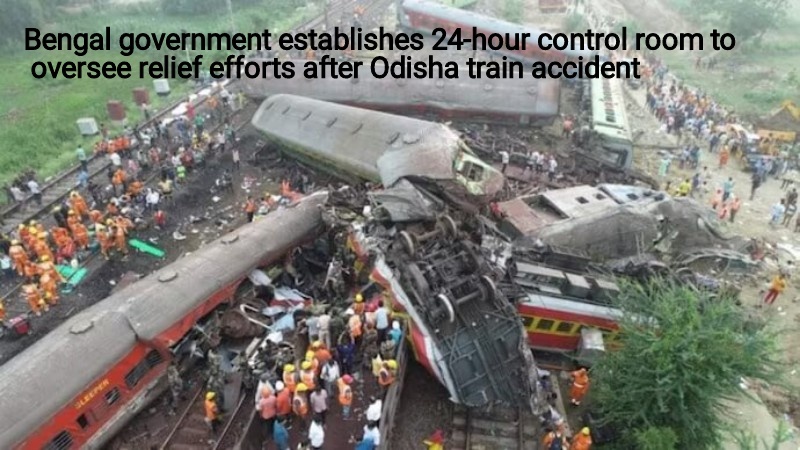 As a result of the horrible triple train tragedy that occurred on Friday night and left at least 288 people dead and over 1,000 injured, the Bengal government has established a 24-hour control room at the Nabanna building in Howrah to monitor the relief and restoration efforts being made in Balasore, Odisha.
The West Bengal State Secretariat is temporarily located in the Nabanna building. The control room, which has been in use since yesterday, intends to provide efficient coordination and oversight of the relief and recovery efforts at the accident site. The control room is accessible at 033-22143526 and 033-22145185, and senior IAS officers are on duty constantly to oversee its functioning.
An hourly situation report is created and followed up on based on the information received by the control room and through block and district offices to guarantee fast response.
Four senior IAS officers, four deputy magistrates and one Sub-Divisional Police Officer (SDPO) have also been stationed at Balasore since yesterday to coordinate relief activities on the ground.
From Bengal, a number of resources have been dispatched to Balasore to aid in the rescue and recovery efforts. Up to 70 ambulances, 34 doctors 10 buses, and 20 mini-trucks had already arrived in Balasore as of noon today.
Two teams from the Bengal Police's disaster management division are currently travelling to Balasore to offer additional support.
According to information, 20 ambulances carrying 120 patients had left Balasore towards Bengal. Eleven of the injured have already been admitted to various hospitals. Five patients in total have been accepted to Medinipur Medical College. The Ghatal Super Speciality Hospital has accepted a few patients.
Two patients who were admitted to the Seth Sukhlal Karnani Memorial (SSKM) Hospital have reportedly been released after receiving treatment.
Mamata Banerjee, the chief minister of Bengal, arrived in Balasore and would visit the hospitals and accident site to monitor and evaluate the ongoing relief activities.
In order to efficiently coordinate relief operations and guarantee a seamless response, the chief secretary has also seized control of the situation by calling an urgent video conference meeting with all District Magistrates (DMs), Commissioners of Police (CPs), and Superintendents of Police (SPs).