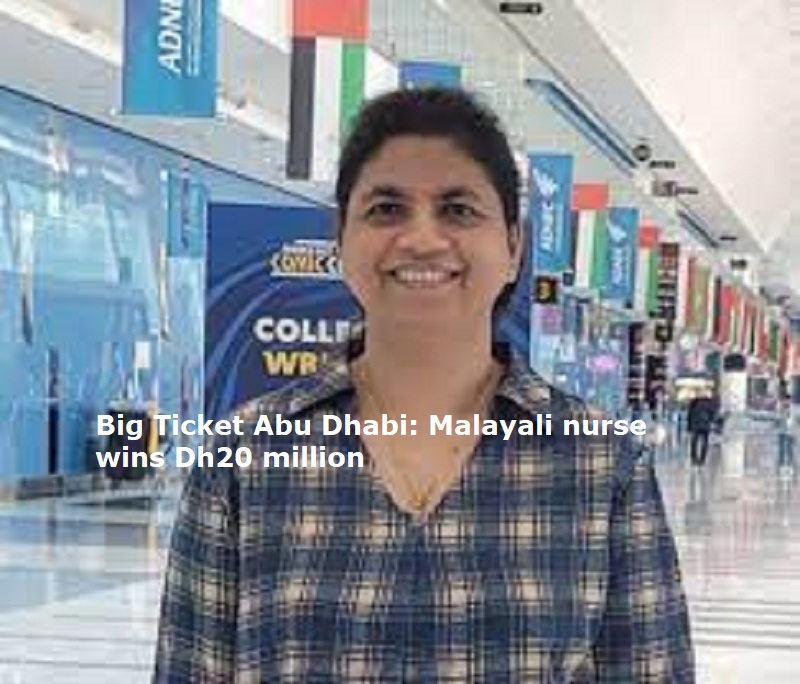 Abu Dhabi: An Indian national won Dh20 million grand prize in the latest Big Ticket Live draw. Lovesy Mole Achamma from Kerala won the fortune. Lovesy Mole Achamma Lovesy is a registered nurse at a hospital in Abu Dhabi.
Indian nationals Alex Kuruvilla won the second prize of Dh100,000, Najeeb Abdulla Ambalath Veettil won Dh70,000 and Bangladeshi expat Yasmin Akhter won Dh60,000. Firoz Puthiyakovilakam another Indian expat won  Dh50,000.
Pakistan national, Yasir Hussain, won a Ranger Rover in the Dream Car category.
Also Read: SalamAir announces new non-stop flights
For the month of June, one lucky individual can won the grand prize of Dh15 million during the live draw on July 3. 7 others will also get guaranteed cash prizes-  second prize amount of Dh100,000, third prize amount of Dh70,000, fourth prize of Dh60,000, fifth prize of Dh50,000, sixth prize of Dh30,000, seventh prize of Dh20,000 and eighth prize of Dh20,000.
Moreover, customers of Big Ticket will automatically participate in a weekly electronic draw for a chance to be one of three winners to walk away with Dh100,000 or one of 20 winners to take home Dh10,000 every week, bringing the total number of winners for the month of June to 100.