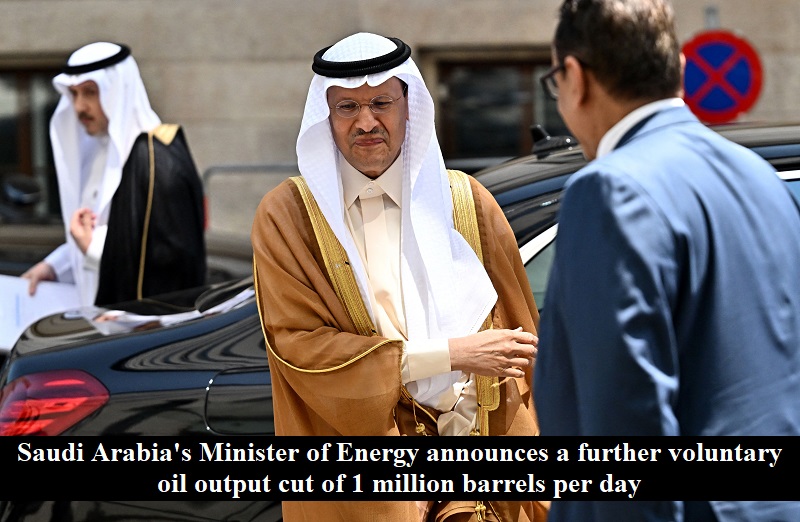 Saudi Arabia's Minister of Energy, Prince Abdulaziz bin Salman, revealed on Sunday that the country will further reduce its oil production by 1 million barrels per day in July, with the possibility of extending the cuts. This announcement was made by Saudi Arabia's energy ministry.
These additional production cuts come in addition to the existing cuts of 2 million barrels per day and voluntary cuts of 1.6 million barrels per day, which were surprisingly announced in April and implemented in May.
After seven hours of negotiations, OPEC+ reached an agreement on output policy. The alliance has decided to implement additional production cuts, reducing the overall production targets by a combined 1.4 million barrels per day starting from 2024, according to Reuters.
The ministry's report stated that this voluntary reduction from the required production level was agreed upon in coordination with some OPEC+ members during the 35th ministerial meeting of OPEC Plus on June 4, 2023.
In response to declining oil prices and the potential for a supply surplus, OPEC and its allies have decided to implement further production cuts following a two-day meeting. OPEC+ currently represents about 40% of global crude oil production, giving their policy decisions significant influence over oil prices.
According to OPEC's statement, the 36th OPEC and non-OPEC Ministerial Meeting will take place in Vienna on Sunday, November 26, 2023.
Western nations have accused OPEC of manipulating oil prices and negatively impacting the global economy due to high energy costs. There are also concerns about OPEC's perceived alignment with Russia, despite Western sanctions imposed on Russia following its invasion of Ukraine.
OPEC officials argue that excessive money printing by Western nations in the past decade has fueled inflation, prompting oil-producing countries to take action to protect the value of their main export.
It is worth noting that Asian countries, such as China and India, have been major consumers of Russian oil exports and have refrained from joining Western sanctions against Russia.
While the April announcement initially pushed oil prices up by around $9 per barrel, exceeding $87, prices quickly declined due to concerns about global economic growth and demand. As of Friday, the international benchmark Brent settled at $76.