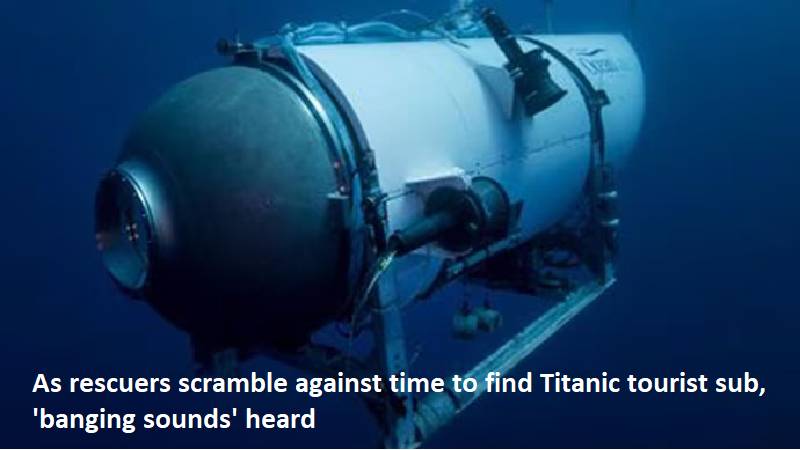 According to officials citing a US government internal correspondence, sonars picked up 'banging sounds' every 30 minutes below in the Atlantic Ocean as rescuers raced against time to discover the submarine that was supposed to carry visitors to see the Titanic disaster but went missing.
After hearing the first underwater noises, further sonar equipment was set up. Additional sonars were deployed, but the hammering persisted. However, CNN said that it was unclear when or how long it was heard, citing the internal communication.
Every 30 minutes, a Canadian P-8 aircraft assisting in the search 'heard banging sounds in the area.' However, it wasn't defined as 'banging' in a later post on Tuesday night, which noted that additional noises had been detected.
The discovery prompted search crews to change the location of their underwater robotic search operations 'in an attempt to explore the origin of the noises,' according to a series of tweets from the Coast Guard early on Wednesday.
The remotely operated vehicle (ROV) searches that were recently relocated were unsuccessful but will nevertheless go on, according to the Coast Guard. The Coast Guard gave no information regarding the type, size, or method of sound detection.
The Titan research submersible went lost on June 18 (Sunday), and the US Coast Guard is in charge of the search. The pilot and four 'mission specialists' were aboard the submarine when it vanished.
About 900 miles (1,450 km) east of Cape Cod, crews from the US and Canadian coast guards are searching the ocean's surface and using sonars to listen for sounds deep beneath the water, which is up to 13,000 feet deep there.
While the rescue operation is ongoing, US Coast Guard Captain Jamie Frederick stated that it was a difficult search effort that was way above what the coast guard would typically take on, according to news agency AFP.
'While the US Coast Guard has assumed the role of search and rescue mission coordinator, we do not have all of the necessary expertise and equipment required in a search of this nature,' he said.
'This is a complex search effort, which requires multiple agencies with subject matter expertise and specialised equipment,' he added.