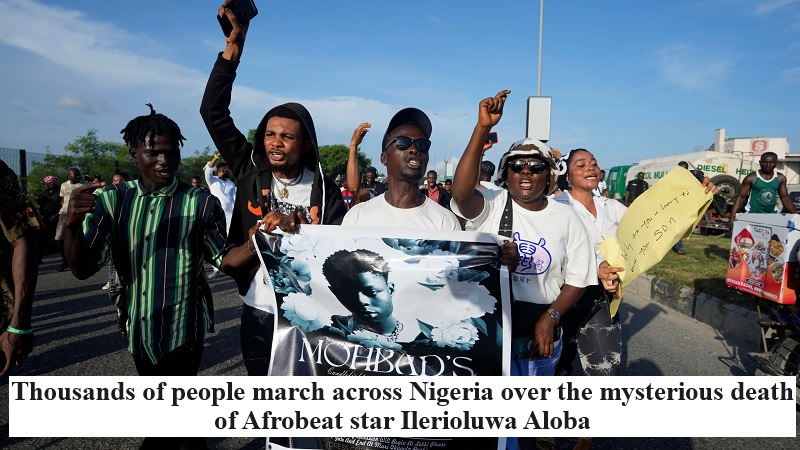 On September 21, thousands of people in Nigeria participated in marches to protest the mysterious death of the Afrobeat star known as MohBad, whose real name was Ilerioluwa Aloba. The 27-year-old artist passed away on September 12 while hospitalized in Lagos due to an undisclosed illness. In response to concerns about the unclear circumstances surrounding his death, the Lagos police exhumed his body on Thursday.
The initial protests demanding justice for MohBad took place in Lagos and quickly spread across the country. Reports indicate that the police received complaints about the singer's death, prompting the establishment of a criminal investigations team to examine all allegations, suspicions, and speculations related to the incident.
Governor Babajide Sanwo-Olu of Lagos assured the public that a thorough investigation would be conducted to hold those responsible for MohBad's death accountable under the law. He also appealed to friends and fans of the deceased to remain calm, avoid making inflammatory statements, and refrain from reaching premature conclusions about the case.
MohBad's untimely demise has drawn attention to his music and the struggles he faced. In one of his songs titled "Sorry," the late artist highlighted his impoverished background and the challenges he encountered while pursuing a career in music. Another track, "Peace," portrayed him as a survivor and a money chaser.
The hashtag #justiceformohbad has been trending on social media platforms since MohBad's passing, with some tributes suggesting that he may have faced bullying within the music industry.
Naira Marley, MohBad's former boss, has been a focal point of outrage, particularly due to their previous feud following MohBad's departure from Marlian Records last year. Naira Marley himself has called for a thorough investigation into MohBad's death.
The protests and demands for justice in MohBad's case reflect the deep emotional impact he had on his fans and the broader music community in Nigeria.