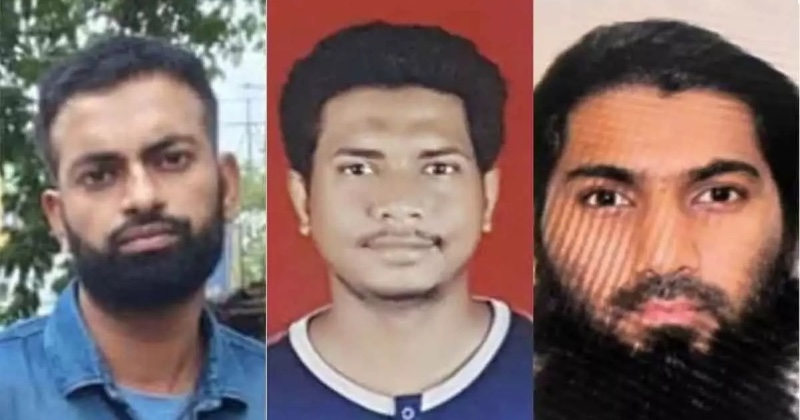 All three suspected ISIS terrorists have a surprising profile of high academic qualifications, but they have taken a divergent path in life, ultimately leading them to incarceration.
The most sought-after suspected terrorist, 31-year-old Shahnawaz Alam, hails from a modest middle-class family in Hazaribagh, Jharkhand. His father, a government school teacher, had earnestly ensured his son received an excellent education, unaware that Shahnawaz was radicalizing in the shadows. The highly educated student-turned-wanted terrorist even married a woman named Basanti Patel in 2021 in Aligarh, Uttar Pradesh. However, before marriage, Basanti converted to Islam and adopted the name Khadeeja Maryam.
According to police officials, Shahnawaz Alam pursued his early education in his hometown and later moved to Kota for AIEEE coaching, a path that seemed typical for a bright student. After excelling in the All India Engineering Entrance Examination, he attended NIT Visveswaraya in Nagpur, where he completed a B. Tech degree in Mining Engineering in 2016.
Following his graduation, Alam relocated to Delhi in November 2016, focusing on preparation for the SSC competitive examination while residing in Abul Fazal Enclave. It was during this period that he started attending Hizb ut-Tahrir lectures in Shaheen Bagh. However, his ideological shift occurred as he gravitated toward the ISIS ideology, influenced by various Twitter accounts and news channels that propagated it.
The second suspected ISIS operative, Md. Arshad, originated from district Garhwa, Jharkhand, within another middle-class family. His father was also a government school teacher. Arshad, an academic achiever, pursued his studies at Aligarh Muslim University (AMU) and earned a B. Tech. in Mechanical Engineering. Subsequently, he relocated to Delhi and attended Jamia Millia University, where he completed an MBA in Marketing & Operations. Presently, Arshad was working toward a PhD in Islamic Principles in Management at Jamia Millia University. In addition to his academic pursuits, he worked as a Physics teacher at Orchid Institute, Jamia Nagar, Delhi, and provided home tuition in Science and Mathematics.
The third operative, Md. Rizwan Ashraf, was born in Jeddah, Saudi Arabia, into a middle-class family. He received his early education at Noorul Huda English Medium School in Fatehpur City, Jamia tul Falah, Azamgarh, Uttar Pradesh, and completed Alimiyat in Arabic (equivalent to 12th grade) in 2009. Ashraf was also an engineer, having earned his B. Tech. in Information Technology from a college in Noida in 2017. After his engineering studies, he returned to Prayagraj and got married.