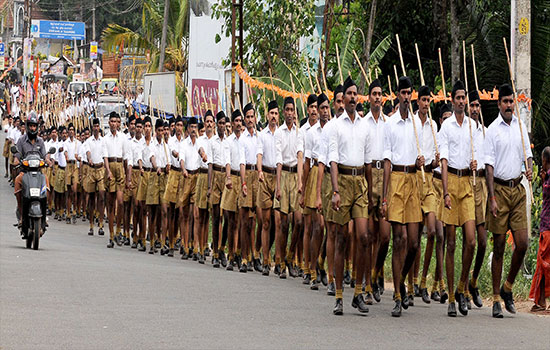 "The Left is losing its ground in Kerala as more and more people are joining RSS.In the last few years, there has been a rise in the number of Shakhas in the state and this is also one of the major reasons that our workers are being attacked there…," RSS's Akhil Bharatiya Saha Prachar Pramukh Nanda Kumar told PTI.
Left-ruled Kerala accounts for the maximum number of RSS shakhas, over 5,000 per day among all its prants'(regions), and the number is rising, a Sangh office bearer claimed.
Even Gujarat, the state which is seen as a stronghold of both Rashtriya Swayamsevak Sangh and BJP, has only around 1,000 shakhas, which are the daily morning meetings of its members.
Kerala now accounts for the highest number of RSS shakhas, more than 5,000 per day, he said. For its operational convenience, RSS divides Uttar Pradesh into six prants with combined 8,000 shakhas per day, and Maharashtra into four prants with combined around 4,000 shakhas per day.
Claiming that the rise in the number of RSS's shakhas started in 2010-11, long before Narendra Modi became the Prime Minister, Kumar said this is a result of the organisation's plans to expand its presence and connect with the youth.
The organisation is aiming to almost double its shakhas across the country to about one lakh. Also, in a bid to give itself a modern look, RSS recently replaced its iconic Khaki half pants with trousers.