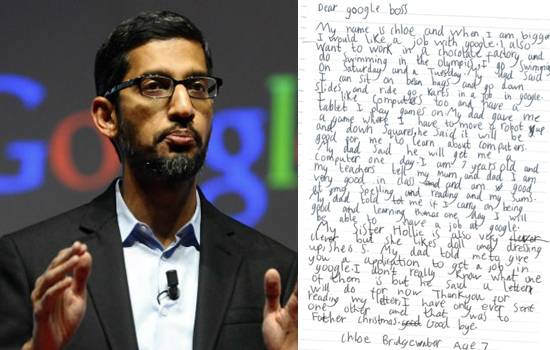 In an adorable letter that seven-year-old Chloe Bridgewater from Hereford, UK wrote to the "Google Boss",
A 7 year-old girl from UK wrote a adorable job application letter to Google CEO Sundar Pichai without any expectation. But, to her pleasant surprise Sundar Pichai himself replied to the girl with words of encouragement and motivation.
In her adorable letter to the "Google Boss", school girl Chloe Bridgewater from UK's Hereford, wrote that she has set her priorities straight.
Business Insider reports that Chloe became interested in Google recently when she asked her dad, Andy Bridgewater, of the ideal place to work. He told her that Google would be ideal as it's known for its 'world-famous perks and cutting-edge work.' Furthermore, she learned that the office had bean bag chairs, go karts, and slides, things that no doubt added to her intrigue.
In her letter to Sundar Pichai, she wrote that she liked computers, robots, and tablets, and was a good student in school.
From working with Google to also working in a chocolate factory and swimming in the Olympics games, she seems to have big plans etched out for herself. Also, it seems Chloe's interest piqued after her father said she could "sit on bean bags and go down slides and ride go karts in a job in Google".
For this adorable resume, Google CEO Pichai wrote gives her an amazing reply.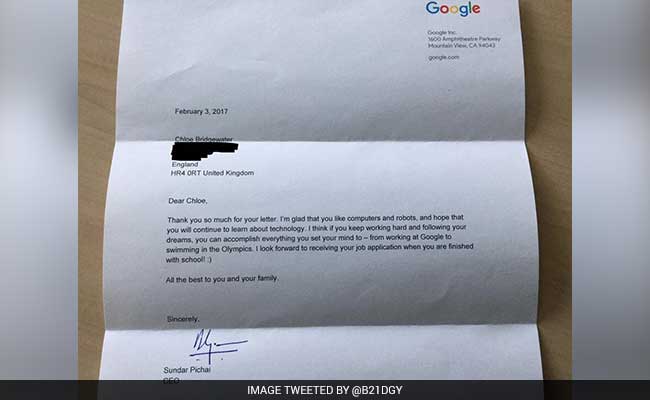 Her father Andy Bridgewater shared Pichai's response in a LinkedIn post, that is now going viral.