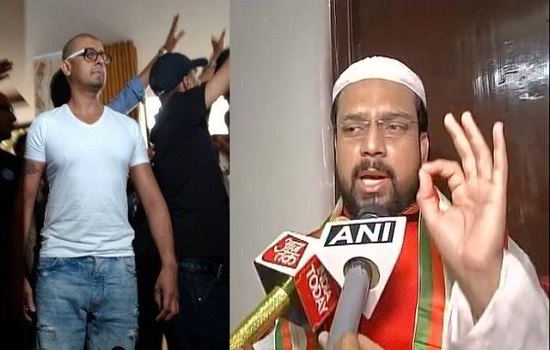 Bollywood singer Sonu Nigam lived up to his promise on Wednesday afternoon by shaving his head. Now the question is, will Syed Sha Atef Ali Al Quaderi pay Rs 10 lakh to him? The singer is yet to to wear a garland of old torn shoes and be paraded around the country donning this unique look.
Earlier, the singer took to Twitter on Wednesday, asking vice president? of the council Syed Sha Atef Ali Al Quaderi to keep Rs 10 lakhs ready. "Today at 2pm Aalim will come to my place, and shave my head. Keep your 10 lakhs ready Maulavi," he tweeted.
Nigam had on Monday taken to Twitter to rant about the sound of azaan that woke him up.
Following which, addressing a press conference in Kolkata on Tuesday, Quaderi had said, "If anyone can shave his hair, put a garland of old torn shoes around his neck and tour him around the country I personally announce an award of Rs 10 lakh for that person."
He also called Nigam an anti-national and added that no one had the right to hurt the sentiments of any other religion. "I would have reacted the same way if one had talked ill about the sound of bells coming from a temple as well. If we all become so intolerant about each other's religions, we will soon have a bunch of atheists in our country. People like Nigam should be driven out of the country," he said.
"God bless everyone. I'm not a Muslim and I have to be woken up by the Azaan in the morning. When will this forced religiousness end in India," one of Nigam's tweets read.