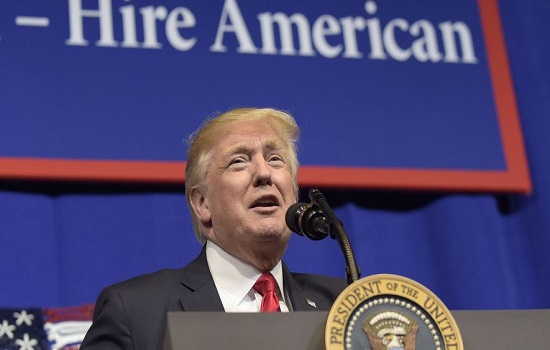 U.S. President Donald Trump has signed an executive order that calls for a review of the H-1B visa programme, saying they should never be used to replace American workers and be must given to the most skilled and highest paid applicants.
Mr. Trump signed the order targeting the programme popular with Indian technology professionals at the Kenosha, Wisconsin headquarters of tool maker Snap-on Inc on Tuesday.
"Right now, widespread abuse in our immigration system is allowing American workers of all backgrounds to be replaced by workers brought in from other countries to fill the same job for, sometimes, less pay. This will stop," Mr. Trump told an enthusiastic audience in Wisconsin before signing the executive order.
He said the order sets in motion the first steps to initiate "long-overdue" reforms to end "visa abuses".
"Right now, H-1B visas are awarded in a totally random lottery, and that's wrong. Instead, they should be given to the most skilled and highest-paid applicants, and they should never, ever be used to replace Americans. No one can compete with American workers when they're given a fair and level playing field, which has not happened for decades," Mr. Trump said.
The executive order also declares that American projects should be made with American goods.
"No longer are we going to allow foreign countries to cheat our producers and our workers out of federal contracts.
According to the executive order signed by Mr. Trump , the Secretary of State, the Attorney General, the Secretary of Labour, and the Secretary of Homeland Security shall suggest reforms to help ensure that H-1B visas are awarded to the most-skilled or highest-paid petition beneficiaries.
In a statement, the White House said H-1B visas are supposed to bring the highest skilled and paid labour to the United States. But according to studies, 80 percent of the approved applications were for the two lowest wage levels allowed. "Currently, companies routinely abuse the H-1B visa program by replacing American workers with lower paid foreign workers," it said.
Reforming the H-1B visa system was one of the major election promises of Mr. Trump . As per several US reports, a majority of the H-1B visas every year is grabbed by Indian IT professionals.
India accounts for the highest pool of qualified IT professionals, whose services go a long way in making American companies globally competitive.
As mandated by the Congress, the US Citizenship and Immigration Services (USCIS) every year issued 65,000 H—1B visas and another 20,000 to those applicants having masters and higher degrees from a US educational institution.
This month USCIS received 199,000 H-1B visa petitions; as a result the federal agency had to resort to a computerised draw of lots to decide the fate of successful applicant.