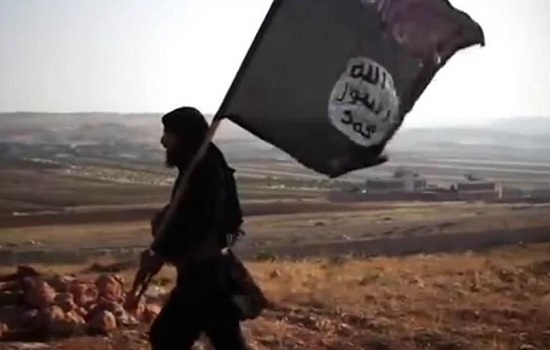 Three suspected terrorists belonging to the ISIS Khorasan module were today arrested for allegedly plotting a major strike while six persons were detained in a joint operation by police teams of five states.
Raids were carried out this morning in Mumbra (Maharashtra), Jalandhar (Punjab), Narkatiaganj (Bihar), Bijnor and Muzaffarnagar (both in Uttar Pradesh) in a joint operation of the Delhi special cell, the ATS of UP and Maharashtra, and the police of Andhra Pradesh, Punjab and Bihar, an official said.
"From what we have come to know till now, they were conspiring to carry out a major attack so as to get their group an identity and create terror in the region," UP ADG (Law and Order) Daljit Chaudhary said in Lucknow.
Three persons were arrested on charges of hatching terror conspiracies. The arrests have been made in Mumbai, Jalandhar in Punjab and Bijnor in Uttar Pradesh, an UP ATS spokesman said in Lucknow.
The Maharashtra Anti-Terrorism Squad (ATS) confirmed the arrest of one person, identified as Nazim Shamshad Ahmed (26) who hails from Bijnor in Uttar Pradesh. He was nabbed from Mumbra township in Thane district adjoining Mumbai.
"Three persons were detained from Mumbra in a joint operation of Maharashtra and Uttar Pradesh ATS in which one person has been arrested for his suspected involvement in terror activities. The two others are being questioned," Maharashtra ATS chief Atulchandra Kulkarni said.
While the UP ATS spokesperson said that six more people have been detained by the police team for questioning, Maharashtra ATS sources said nearly 12 were taken into custody.
The UP ATS spokesman said that after their interrogation, necessary action will be taken against them.
He said the operation was launched on the basis of a tip-off that a terror group was being prepared for carrying out terrorist acts for which some active members were enrolling new members.
Those arrested are suspected to be part of a module that was looking for potential recruits in Bihar, UP and Maharashtra.
Chaudhary told reporters here that the agencies have found evidence against four and the rest five were being quizzed.
"All those arrested are in the age group of 18 to 25 years and were living in different places like Mumbai, Jalandhar and UP. We have also found that they were definitely influenced by the material available on the internet," he said.
They appear to be misguided youth and efforts will be made to bring them back to the mainstream, he said.
Investigations show that one of them wanted to finance the group and they were continuously communicating with each other about carrying out some major strike in the near future. But police and other agencies of different states with the help of surveillance made the arrests before they could carry out any such attack.
The ADG ruled out any link between those arrested today with a suspected terrorist killed in an encounter here recently.