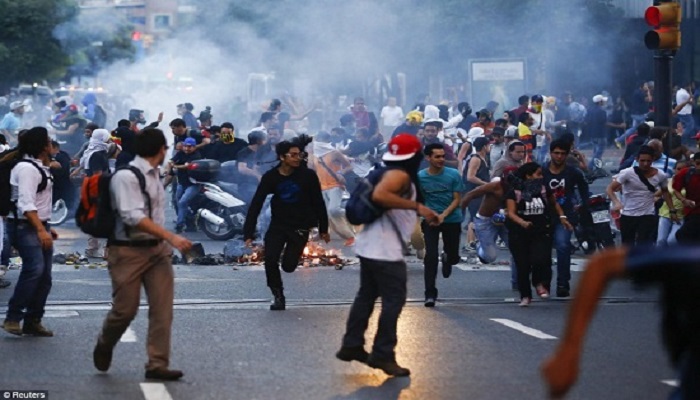 During protests against President Nicolas Maduro, three people including two students and a National Guard sergeant died on Wednesday, after being shot.
Opposition supporters protested in Caracas and other cities in what they called "the mother of all marches," denouncing Maduro for eroding democracy and plunging the oil-rich economy into chaos. There is also an increasing turmoil in this volatile nation faced with economic crisis.
Crowds increased to hundreds of thousands, including Maduro supporters who held a counter-demonstration in the capital at the urging of the president, and clashes were reported across the country during the most sustained protests since 2014.
The marchers gathered at more than two dozen points around Caracas, although some were stalled by authorities closing around 20 subway stops. Protesters had hoped to converge on the office of the state ombudsman, but as in previous attempts they were blocked by the National Guard. The protests trailed off with youths throwing rocks squaring off against security forces spraying tear gas.
Analysts say there is less likelihood of a coup against Maduro because Chavez launched a broad purge of the armed forces following his brief ouster.
Some unhappy Venezuelans also steer clear of protests, fearful of violence, cynical that marches can bring about change, or too busy looking for food amid the recession.
Venezuela benefited for years from oil-fuelled consumption and many poor citizens rose into the middle class. But the 2014 collapse in oil prices left the government unable to maintain a complex system of subsidies and price controls. Snaking grocery lines are now a common sight and people routinely say they skip meals and cannot find basic medication.
Maduro says that beneath a peaceful facade, the protests are little more than opposition efforts to foment a coup to end socialism in Venezuela. The opposition says he has morphed into a dictator and accuses his government of using armed civilians to spread violence and fear.
The deaths mean eight people have now been killed during protests in Venezuela this month. The opposition blames the deaths on security forces and alleged paramilitary groups. Over 400 people were arrested during protests on Wednesday, rights group Penal Forum said.
The opposition called for another protest on Thursday, raising the spectre of prolonged disruption in Venezuela.
"Same place, same time," said opposition leader Henrique Capriles on Wednesday night. "If we were millions today, tomorrow we'll be more."
Wednesday's dueling marches drew parallels to the clashes between pro and anti-government protesters in 2002 that triggered a brief coup against late President Hugo Chavez.