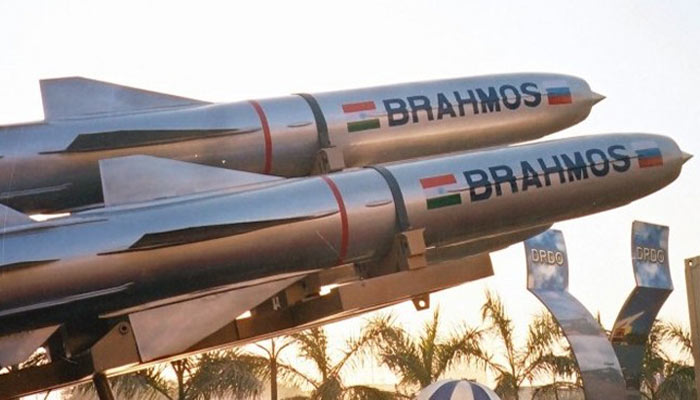 In a boost to the precision-strike capability of hitting land targets from the sea, the Navy successfully tested the supersonic BrahMos land-attack cruise missile from a stealth frigate in the Bay of Bengal on Friday.
The BrahMos missile, which last month was tested with an extended range of 450-km from the earlier 290-km, was fired from frigate INS Teg. "The land-attack variant of BrahMos provides Indian warships the capability to precisely neutralize selected targets deep inland, far away from the coast, from stand-off ranges at sea," said an Officer.
"The maiden firing significantly enhances the Navy's prowess and places India in the club of a select few nations to have this capability. Majority of our frontline warships, like the Kolkata-class of destroyers and Teg-class of stealth frigates, are capable of firing this missile," he added.
Till now, the Navy had equipped over 10 warships with the anti-ship version of the BrahMos missiles, which fly almost three times the speed of sound at Mach 2.8 and have been jointly developed with Russia.
The Army, in turn, has inducted three BrahMos regiments, with the fourth on the way, while the IAF is also slated to begin testing the missile from its heavy-duty Sukhoi-30MKI fighters soon. Overall, the combined orders placed for the BrahMos missiles from the three Services already stand over Rs 27,000 crore.
The technology upgrade to the extended range BrahMos, teste-fired on March 11, came after India gained entry into the 34-nation Missile Technology Control Regime (MTCR) in June 2016, which "removed the caps" on the missile's range. The MTCR basically prevents the proliferation of missiles and UAVs (unmanned aerial vehicles) over the range of 300-km.
After the front in Pakistan, the government has approved the Army's deployment of the missile's Block-III version, which has "trajectory maneuver and steep dive capabilities" for mountain warfare operations, in Arunachal Pradesh to counter China's huge build of military infrastructure all along the 4,057-km Line of Actual Control.
"The missiles already approved for induction can also be upgraded from the 290-km to 450-km range with minor modifications and tweaking of the propulsion system, avionics, fire-control system and mission software. It will not require huge costs," said a scientist.