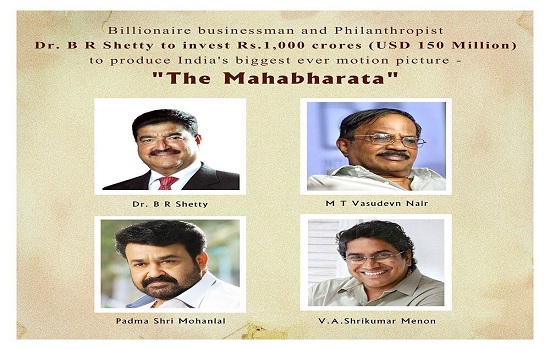 UAE billionaire BR Shetty would invest Rs 1000 crore in what could be the country's most expensive film.
Shetty, a UAE-based Indian will fund India's biggest ever motion picture called 'The Mahabharata'. The ambitious project will be directed by ad filmmaker VA Shrikumar Menon. According to the media reports, the multilingual film would be made in two parts.
The shoot will begin in September next year and the film is expected to release in early months of 2020. The sequel of the movie will come after 90 days of the release of its primary part.
The script will be based on an adaptation of M T Vasudevan Nair novel Randamoozham (The Second Turn), which narrates 'The Mahabharata' through the eyes of Bhima, the second of the Pandavas. The same writer, Nair will also write the screenplay of the movie. Nair holds a record of maximum National Awards for screenwriting in the history of Indian cinema. "The film will be shot primarily in English, Hindi, Malayalam, Kannada, Tamil and Telugu and will be dubbed into major Indian languages and leading foreign languages," BR Shetty said. Shetty, who is a founder and chairman of UAE Exchange and NMC Healthcare said, "The movie would be a true 'Make in India' made for the world."
Shetty believed it would not only set global benchmarks, but also reposition India and its prowess in mythological storytelling. "I am confident that this film will be adapted in over 100 languages and reach over three billion people across the world", he added. Talking about casting, the director, VA Shrikumar Menon told media that Mohanlal will essay the role of Bheema. Mohanlal through his Facebook page also expressed his desire to play the role.