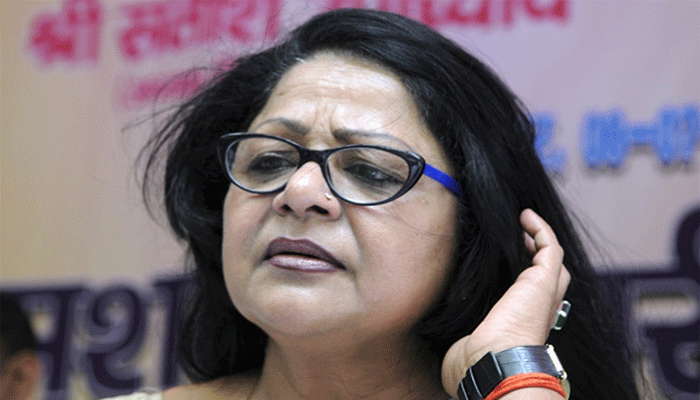 A day after she was expelled from Congress for "undertaking anti-party activities just before the MCD elections", former Delhi Congress leader Barkha Shukla Singh joined the BJP today. Ms Singh was welcomed into the party by BJP's national Vice President and Delhi in charge Shyam Jaju in the afternoon.
After joining the party, Ms Singh who had earlier claimed she won't join any party, said she was forced to join BJP after she was shown the door by Congress. "I had written to Prime Minister Narendra Modi on the issue of Triple Talaq, but my former party asked me to drop the issue else they will expel me. Congress has shown its true face. Wahan parivarvaad hai (there is nepotism in the party). I am deeply upset and disappointed that I was a member of that party," she said.
The former Delhi Commission for Women chief on Thursday announced she was stepping down as the chief of the women's wing of the Congress' Delhi unit, but didn't quit the party. The Congress expelled Ms Singh for six years.
She had described Rahul Gandhi as "mentally unfit" in a press statement and said, "Senior-most leaders of the party, I would not like to name anybody, are also of the view that Rahul Gandhi is mentally unfit to lead the party but choose not to say it because of reasons that are unknown to me."
She also alleged that Delhi Congress chief Ajay Maken had "misbehaved, not only with me but also with several office bearers of the Mahila Congress". Their plea to Mr Gandhi, she said, "fell on deaf ears."
"The Congress party under the leadership of Rahul Gandhi and Ajay Maken has only used the issue of empowerment of women and women security to gather votes….The issue means nothing to them," she said before resigning.
Ms Singh followed in the footsteps of senior leader and former Delhi minister Arvinder Singh Lovely among others who recently quit the party and joined the BJP. Mr Lovely, too, had expressed dissatisfaction with the Congress leadership, including Mr Gandhi and the way the party is being run.