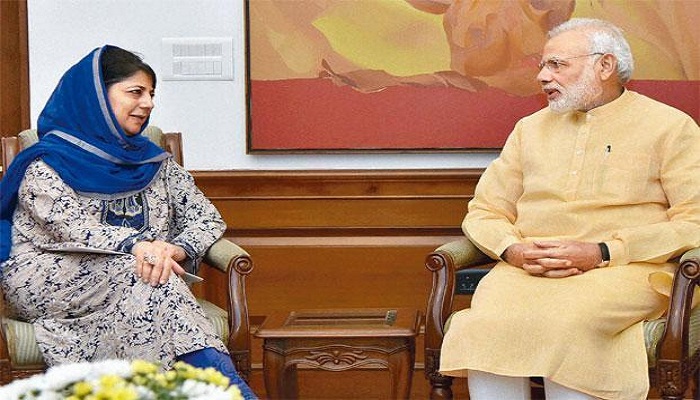 Jammu & Kashmir chief minister Mehbooba Mufti has rushed to New Delhi on Saturday to meet Prime Minister Narendra Modi to resolve the contentious issues that have cropped up among the coalition partners PDP and BJP over the deteriorating law and order situation in the Valley.
Official sources said Mehbooba will hold a meeting with Niti Ayog members on Sunday morning before meeting Modi later in the day. She will apprise PM of the present security scenario in the valley in the backdrop of sporadic protests by school and college students earlier this week after more than 50 students were injured at Pulwama in south Kashmir on April 15.
The students were protesting against the presence of security forces near the degree college in Pulwama. According to sources, the Centre has decided to act tough against "anti-national elements" in Kashmir, besides strictly sticking to its policy of no-talks with separatists and Pakistan over the K-issue. However, PDP chief and CM Mehbooba has been pleading to open up dialogue with the Kashmiri separatists as also with Pakistan to resolve the Kashmir crisis. With enemies of peace constantly adding fuel to fire in Kashmir, the PDP-BJP coalition government seems unable to take head-on the hidden forces given their political compulsions, feel political analysts. They say governor's rule for a limited period seems to be the only option to give peace a chance in the valley.