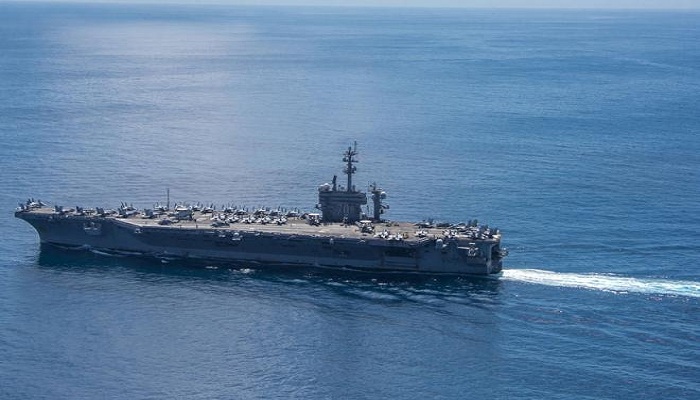 North Korea said on Sunday it was ready to sink a US aircraft carrier to demonstrate its military might, as two Japanese navy ships joined a US carrier group for exercises in the western Pacific.
US President Donald Trump ordered the USS Carl Vinson carrier strike group to sail to waters off the Korean peninsula in response to rising tension over the North's nuclear and missile tests, and its threats to attack the United States and its Asian allies.
The United States has not specified where the carrier strike group is as it approaches the area. US Vice President Mike Pence said on Saturday it would arrive "within days" but gave no other details.
"Our revolutionary forces are combat-ready to sink a US nuclear powered aircraft carrier with a single strike," the Rodong Sinmun, the newspaper of the North's ruling Workers' Party, said in a commentary.
The paper likened the aircraft carrier to a "gross animal" and said a strike on it would be "an actual example to show our military's force".
The commentary was carried on page three of the newspaper, after a two-page feature about leader Kim Jong Un inspecting a pig farm.
North Korea will mark the 85th anniversary of the foundation of its Korean People's Army on Tuesday.
It has in the past marked important anniversaries with tests of its weapons.
North Korea has conducted five nuclear tests, two of them last year, and is working to develop nuclear-tipped missiles that can reach the United States.