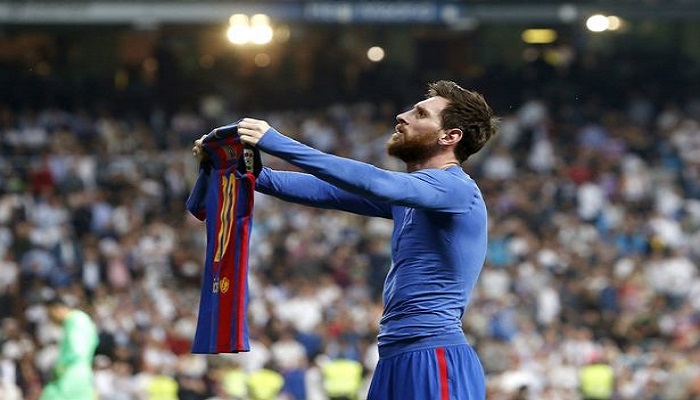 The 29 yr old football star from Argentina Lionel Messi proved that he is the greatest footballer of all time with the last kick of the game for a 3-2 win at Real Madrid on Sunday.
Lionel Messi scored his 500th career goal for Barcelona to give the Catalan club a dramatic over 10-man Real Madrid in the last minute of the "clasico" on Sunday, leaving the Spanish league title race wide open.
Messi netted his milestone goal , his second of the night ,with a low left-footed shot from inside the area after a cross by Jordi Alba two minutes into stoppage time. Barcelona is ahead on the head-to-head tiebreaker, but Madrid still has a game in hand.
Casemiro had put Real Madrid ahead in the 28th minute, and Messi tied the score five minutes later after evading two defenders inside the penalty area for his first goal at Santiago Bernabéu Stadium since 2014.
Ivan Rakitic put Barcelona ahead with a powerful left-footed shot from outside the penalty area in the 73rd minute, but Madrid tied the score with a goal by the substitute James Rodríguez in the 85th, despite playing a man down from the 77th after Sergio Ramos fouled Messi.
It was the second consecutive win by Barcelona at the Bernabéu. It had routed Real Madrid, 4-0, last season in a game that eventually led to the replacement of Madrid Manager Rafa Benítez by Zinedine Zidane.
He is also the leading all-time scorer in El Clasico fixtures with 16, two ahead of Alfredo Di Stefano.