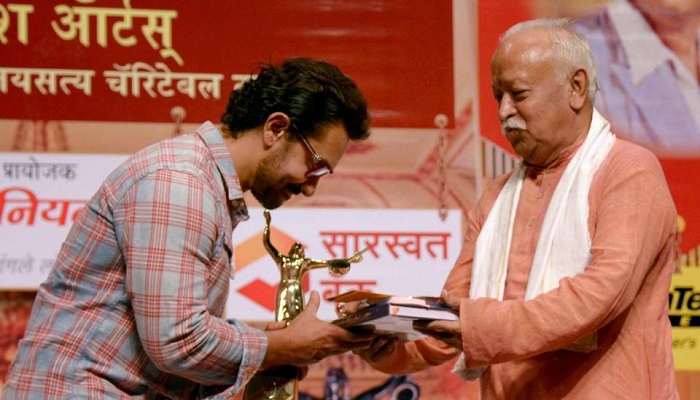 Bollywood superstar Aamir Khan broke his record of 16 years of not attending award functions for Master Dinananth Mangeshkar Awards.
The event was held to commemorate Lata Mangeshkar's father's 75th death anniversary and Aamir Khan was invited by the Nightingale of India herself.The award is presented every year to honour artistes by the Mangeshkar clan to commemorate their father Pandit Dinanath Mangeshkar's death anniversary.
Aamir Khan was honoured with the Master Dinanath Mangeshkar award for his outstanding work in 'Dangal' at the prestigious ceremony held on Monday at Shanmukananda Hall in Mumbai. Last time the actor attended an award function was 16 years ago at the Academy Awards when 'Lagaan' was nominated in the Best Film category.
Aamir Khan has been receiving appreciation from all quarters for his work in the blockbuster 'Dangal' which shattered box-office records to become the highest all-time grosser of Bollywood. The film was a biopic on Haryanvi wrestler Mahavir Singh and his two daughters and India's women wrestlers. The actor had undergone a huge physical transformation to portray Mahavir's character on-screen.
Aamir will be next seen in an extended cameo in 'Secret Superstar' which stars 'Dangal' actress Zaira Wasim in the lead. He is also prepping for YRF's 'Thugs of Hindostan' that also stars Amitabh Bachchan.