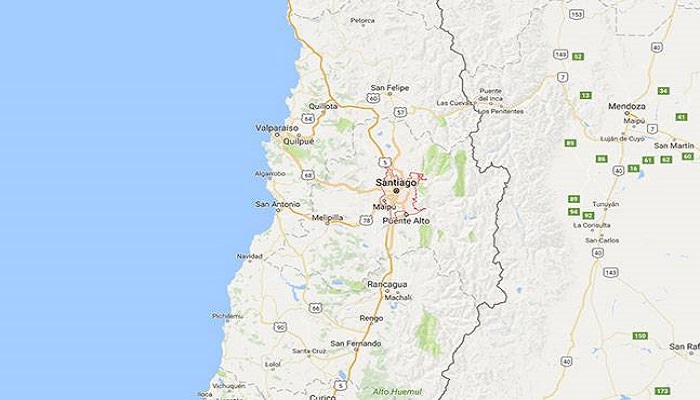 A strong earthquake of 6.9 magnitude hit at the west coast of Chile on Monday, rocking the capital city of Santiago.
The earthquake was followed by two powerful after shocks. The quake was centred about 85 miles (137 km) from Santiago, and some 22 miles (35 km) west of the coastal city of Valparaiso. The U.S. Geological Survey twice revised the magnitude before settling on 6.9, a strength usually capable of causing severe damage.It struck at 6.30pm Monday local time.
"There were no reports of structural damage so far, but phone networks were down in some places," a spokesman for the local government in Valparaiso said.
"It was short but very powerful," said Paloma Salamo, a 26-year-old nurse, who was in a clinic in Viña del Mar, just north of Valparaiso, when the quake struck.
People ran from the facility carrying children and some headed for the hills when the tsunami alarm sounded, she said, but calm was soon restored.
"So far there has been no human loss nor significant damage," President Michelle Bachelet said, praising people for evacuating in an orderly fashion in the immediate aftermath.
Officials cancelled a tsunami warning that had been issued in Valparaiso. The Pacific Tsunami Warning Center reported small tsunami waves of half a foot (15 cm).
There were no reports of structural damage in Valparaiso, but cellphone networks were down in some places, a spokesman with the local government said.
Chile, located on the so-called "Pacific Ring of Fire," has a long history of deadly quakes, including an 8.8 magnitude quake in 2010 off the south-central coast, which also triggered a tsunami that devastated coastal towns. More than 500 people died.
This was the sixth-largest earthquake ever recorded, according to the USGS. The largest recorded temblor in history was also in Chile, a 9.5-magnitude quake in 1960.