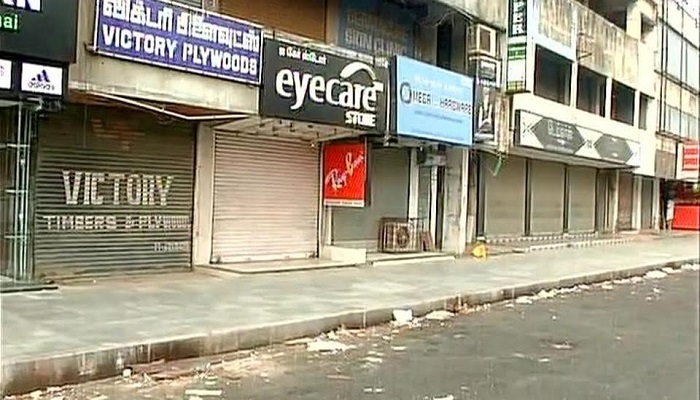 A one-day bandh called on Tuesday by the Opposition DMK in Tamil Nadu to express solidarity with the state's drought-struck farmers received a mixed response.
While shops and hotels remained closed in Chennai, public transportation was not affected in the city, but only in southern parts of the state. Schools were closed due to yearly holidays, whereas government offices remained open in Chennai. Moreover, film shootings were halted across the city and theatres were forced to be shut.
The bandh was called by DMK, Congress, CPI(M), CPI, VCK, IUML and a host of trade unions affiliated to the opposition parties, farmers bodies, the film fraternity and other organisations, including a lorry operators association who pledged support to the bandh.
According to the government sources, buses were running normally in Chennai, with around 3,800 buses functioning in 750 routes with police personnel on the board.Petrol bunks were operating normally but employees were seen wearing black badges in support of the drought-hit farmers.
DMK working president MK Stalin and his senior party colleagues were arrested in Thiruvarur when they tried to block traffic.In southern Tamil Nadu, protesters stopped vehicles and also forced public transport off the road.However, life in general appeared unaffected by the bandh.
Outside Chennai, the bandh got a great response, especially in the Cauvery Delta. In Thanjavur, most businesses were shut and buses off the road. In Cuddalore private buses and auto rickshaws stayed away while shops were closed in Tirunelveli.
In Ariyallur district, over 5,000 shops were closed, while buses were running with police escorts. In the temple town of Rameswaram, tourists had a tough time as hotels and restaurants were closed. In the neighbouring Union Territory of Puducherry, shops were closed. Most of the units at Tirupur, knitwear hub of the country were closed.
In Tiruchy, buses and autos were running but shops were closed. In Gandhi market, one of the major trading hub for south India, over 70% of the shops were closed.In Madurai, the vegetable markets were closed. Koyambedu market in Chennai, which is the largest in South Asia, was also shut.