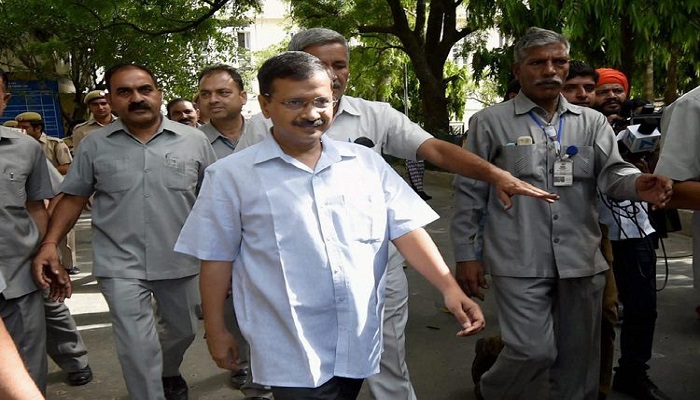 After two exit polls which predicted lanslide victory for BJP in MCD polls the opponents seems panicky. Desperate, they are taking extreme steps.
AAP supremo Arvind Kejriwal on Monday warned of launching a 'movement' if the exit poll prediction of BJP sweep comes true. Addressing a gathering of poll observers in his residence, he said that, AAP workers and elected representatives are 'connected' with people on a daily basis and they know the ground reality.
"If such results come then it proves that manipulation has happened, like in Punjab, Uttar Pradesh, Pune, Mumbai, Bhind and Dholpur. We are the product of a movement. We are not here to enjoy the pleasures of power. We will return to movement," said Arvind Kejriwal.
Kejriwal said more than winning or lossing, he was more bothered about the "unabated tampering of EVMs" across the country and "betrayal".
He cited alleged instances of the AAP getting barely two votes in villages in Punjab, "even in places where people booed the Akalis out".
AAP Delhi Convenor Dilip Pandey said that the MCD poll results could be "rigged" and the ground for it was being prepared by "floating" exit polls predicting a BJP sweep.
"If this (BJP sweep) is what the exit polls are saying, it is clear that the EVMs have been tampered with and these fake exit polls are being put out to prepare a ground for the rigged results," he said.
Congress meanwhile trashed this exit poll results stating that the results will reveal a "close" fight with the BJP while the Aam Aadmi Party (AAP), the third main contender in the elections would remain a "distant" third.
"We do not give any importance to exit poll results. Wait for the counting of votes and actual results and you will witness a close fight between the Congress and the BJP while the AAP will be a distant third," a senior Delhi Congress leader, Chatar Singh said.
The exit polls conducted and aired by two channels forecasted victory for BJP in 220 wards.It predicted that Congress would win around 31 wards.
A total of 58.58 per cent votes were polled in the elections to 270 wards of the three municipal corporations (MCDs) on Sunday.The voting in two ward were cancelled due to death of candidates.