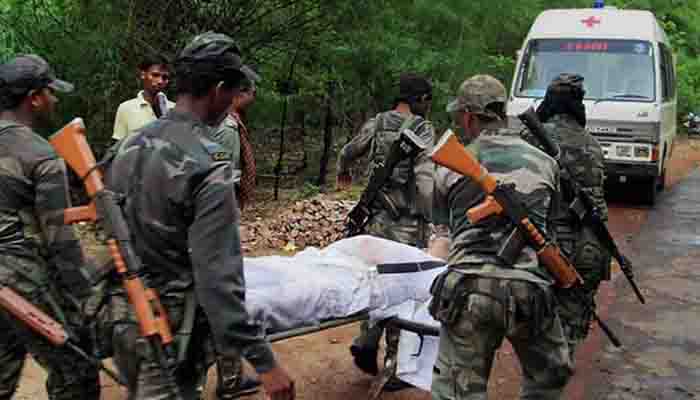 The 25 CRPF jawans who were killed in a deadly Naxalite ambush in Chhattisgarh's Sukma, were having lunch when a hail of bullets and grenades hit them fatally.
A party of about 36 troops, out of the total 99, came under the first assault after they had ventured out from Burkapal on Monday to sanitise and provide protection to a 5.5-km long road construction work connecting Chitagufa in the said district, officials said.
The Maoists squad "very discreetly with the aid of locals" kept tracking the movement of the troops when one party of 36, out of the total three, sat down for lunch, the Maoists, possessing sophisticated weapons, took them by surprise and rained heavy gun fire, they said.
A huge assortment of 22 smart arms, including 13 AK series assault rifles and 5 INSAS rifles, 3,420 live rounds of various rifles, 75 magazines of AK rifles, 31 of INSAS, 67 live UBGL rounds, 22 bullet proof jackets, two binoculars, five wireless sets and a deep search metal detector were also looted by Naxalites, they said.
While a top CRPF officer said the killed troops had "finished their lunch" and may be were not in an absolute alert mode for the next few minutes, other officials said "some of them were having their lunch" when the attack was launched around 12.30pm.
While the slain 25 men and about six others who were injured, tried to gather their weapons or take aim at the marauding Naxalites, the others on the guard duty mounted an effective retaliation and saved about 40 civilians and construction workers who were present in the vicinity of the area during the deadly assault that lasted over an hour.
What has surprised multiple security officials whom PTI talked to, is the fact that the Maoists are understood to have used few under-barrel grenade launchers (UBGL), a smart and sophisticated weapon used by security forces, to inflict fatal casualties on the troops by lobbing grenades in quick succession.
"It is very likely that these UBGLs were looted from security forces only. That could be as recent as the incident where 12 CRPF men were killed in Sukma on March 11," a senior officer said.