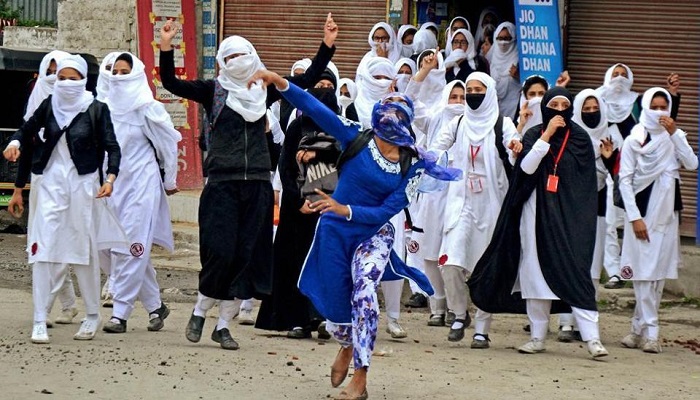 The Centre is set to raise an women India Reserve (IR) battalion consisting of around 1,000 personnel in Jammu and Kashmir. The battalion will assist the state police and will primarily deal with incidents like stone pelting.
The decision was taken in the Kashmir review meeting chaired by Union home minister Rajnath Singh in New Delhi on Thursday.
The policewomen will be part of the five India Reserved Battalions (IRBs), the central government has already sanctioned.
"The battalions are tasked by the state but a major chunk of expenditure is borne by the Centre. The Centre has now told the state government to make one among the five an all-women battalion," said a home ministry official privy to the decision.
The recruitment for the five battalions is already on and as many as 1,40,000 youths in Jammu and Kashmir have applied for 5,000 posts.
"Around 6000 applications were received from women. Therefore, it was decided to raise one battalion only from women applicants. The decision is in line with the Centre's directive to increase representation of women in security forces to 33 percent in future," said the official.
The official said the meeting also reviewed 63 developmental projects from 15 central ministries that are part of the Rs 80,000 crore package for Jammu and Kashmir announced by Prime Minister Narendra Modi in November, 2015.
Another session of the meeting will be held on Thursday evening, to discuss the implementation of the development package for the state announced by Prime Minister Narendra Modi and the continuous unrest in the valley.
The valley has witnessed unprecedented demonstrations led by students, including women, who were protesting against an alleged security clampdown on students in south Kashmir.
Student protests have become a new challenge for the administration in Kashmir where the law and order situation has gone downhill after the killing of Hizbul Mujahideen militant Burhan Wani in July 2016.
"We need to find ways to break the cycle of violence in the valley. Once the cycle of protests, deaths and further protests is broken, the situation can be brought to normalcy in far more easily," said a security official.
The official added that if the violence continues, it is going to be really hot summer in the valley.