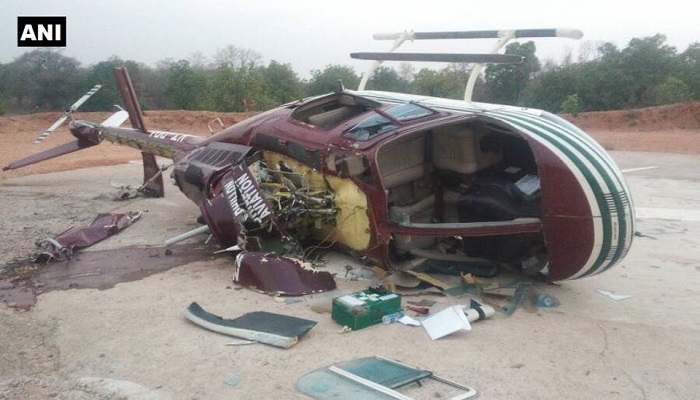 A private helicopter carrying CoBRA commandos today crash landed near a CRPF camp in Chhattisgarh's Sukma district resulting in minor injuries to five occupants.
Officials said two officers and a commando of the elite jungle warfare unit of the CoBRA were among five people who received injuries after the crash took place around 5:30 PM near the Chintagupha camp of the paramilitary force, in south Bastar.
They said the pilot and the engineer of the Bell-206 helicopter, hired on lease by the CRPF for anti-Naxal operations in the state, were also injured.
"All the three officials of the Commando Battalion for Resolute Action, which is CoBRA, and the two crew members are safe now," a senior officer said.
They said an inquiry is on to ascertain the reason of the crash, which could be a technical snag.
Sukma Superintendent of Police Abhishek Meena told PTI that the private chopper "lost its control and tilted a bit towards ground while landing in Chintagupha police station area this evening".
"The rotor blade of the chopper is reported to have damaged in the incident," he added.
According to officials, the Commanding Officer of a CoBRA battalion deployed in Chhattisgarh, his second-in-command and a jawan had gone to Chintagupha for a meeting.
CRPF Director General Sudeep Lakhtakia was present in the area for reviewing operations in the aftermath of the April 24 ambush.
The Chintagupha camp of the Central Reserve Police Force is deep inside Sukma and two days ago, Naxals killed 25 CRPF personnel in a deadly ambush near here in an area called Burkapal.