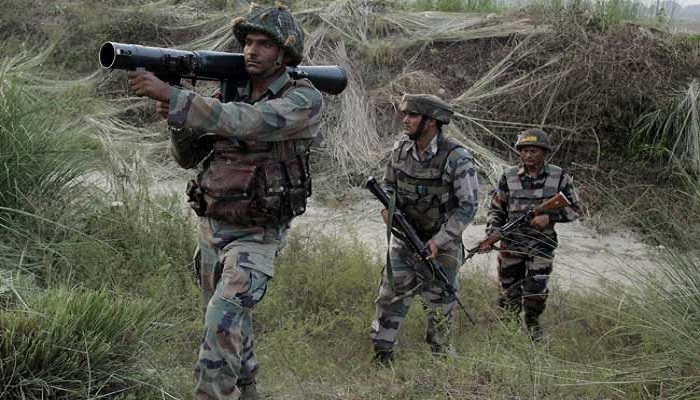 Thursday's fidayeen attack once again highlights the threat posed to India's security by terror camps in Pakistan-occupied-Kashmir (PoK).
Targeting Indian Army installations, increased infiltration, and ceasefire violations seem to be part of Pakistan's strategy for the summer of 2017. There are several terror launch pads across the border, where hundreds of militants are waiting to crossover.
Sources said there are at least 11 terror training camps in PoK where people are being trained. Most of these camps are being run by Lashkar-e-Taiba and Hizbul Mujahideen.
The Chela Bandi terror camp is a case in point. It lies very close to the Pakistan Army's Nisar base in Muzaffarabad. Around 1,480 are undergoing combat commando training here known as Daora-e-Khasa.
Former Pakistan Army commandos have an important role to play. According to sources, Abu Ishaq and Abu Islam are two such commandos involved in the training. The students were selected last year from across Pakistan by district "amirs" of Jamaat-ud-Dawah, the terror outfit led by the 26/11 Mumbai attacks mastermind Hafeez Saeed.
Around 75% of the students are from Pakistan's Punjab province. Pakistan Armymen are working in these camps as trainers, facilitators and other roles.
Laskkar-e-Taiba chief Zaki-ur-Rehman Lakhvi visits this camp twice a month to provide special training to the students and motivate them. The camp is guarded by Pakistan Armymen whenever Lakhvi pays a visit, sources added.
Another Lashkar camp is in Dulai, Muzaffarabad where close to 600 men are being trained. The Maskar-E-Asqa centre is believed to be holding 800 to 1000 terrorists. Shawai Nallah is a smaller post that houses around 300 people.
There are two other LeT camps in Muzaffarrabad — Maskar-E-Asqa and Abdullah-Bin-Masood. Around 1,000 to 1,500 terrorists are being trained in both.
Sources said Lashkar has a much larger terror launchpad in Muridke, Lahore. Spread across 12 square kilometres, this camp is a training site for over 4,000 militants.
Hizbul also has terror camps in PoK. Around 1,000 men are being trained at Khalid Bin-Walid in Muzaffarabad.
Apart from their own centres, both these militant outfits also run joint camps. There are four hideouts in Kotli district. The strength of the camp in Sensa in not known, but around 700 are being trained in the one in Kotli.
The Tharochi camp in Kotli trains around 500 militants, while the strength on the Barnala camp in the same district is not known.
Three soldiers were killed and five injured when militants attacked an Army camp in Chokibal area of Kupwara district in Jammu and Kashmir early on Thursday. Two terrorists were eliminated.