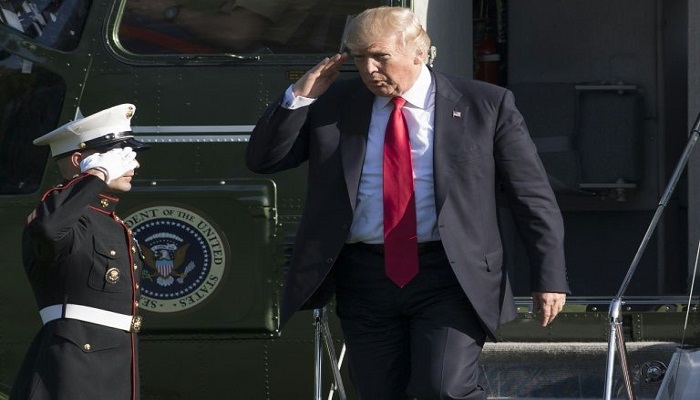 Donald Trump is celebrating his first 100 days in the White House on Saturday as one of the most successful in US history despite widespread criticism over a presidency plagued by disruption, confusion and chaos.
Under a relentless spotlight since stunning the world in November with a victory over his Democratic rival Hillary Clinton, the 45th US president has seen his bid to tear up his predecessor's landmark health-care reforms founder in Congress, where many of his other legislative priorities have also run up against cold political gamesmanship.
Critics are marking the milestone by slamming his struggle to convert campaign promises into tangible achievements, which his supporters blame on obstruction by his opponents.
Funding for his promised wall along the US border with Mexico was stripped from a federal spending bill in order to prevent a government shutdown. His bare-bones tax plan, hastily unveiled this week in the hope of burnishing his first 100 days with a success story, has been savaged as a multi-billion-dollar giveaway to the wealthy that will send the national debt soaring. Trump has signed dozens of executive orders, including several that roll back Obama-era regulations on industry or lift bans on oil and gas drilling, efforts Republican lawmakers and voters widely praised. But US courts have blocked his most high-profile order, a temporary ban on citizens from several Muslim-majority countries entering the United States. Trump has put on a brave face nevertheless. "The first 100 days of my administration has been just about the most successful in our country's history," the real estate billionaire said in his weekly address on Friday, despite having called the 100-day milestone arbitrary, "a false standard."
Trump will escape the pressures of his office for a campaign-style rally in front of a typically adoring crowd Saturday evening in Harrisburg, Pennsylvania.
But even if his core supporters still fully back him, he is the least popular US leader in modern times at this stage of his presidency, polls show.
Democratic lawmakers have gleefully described his opening century mark as a slow-motion train wreck, a period of dramatically diminished stability, legislative failures and broken campaign pledges.
Much of the news media carried that message on Saturday. A New York Times editorial titled "100 Days of Noise From Donald Trump" excoriated his ignorance of policy and politics and warned about his danger to American institutions. "Governing, so far, has turned out to be more than Mr. Trump can manage," the paper wrote.
"His determination to leverage his office to expand his commercial empire is the only objective to which Americans, after 100 days, can be confident this president will stay true."
Demonstrators in New York City staged a march under the banner "100 Days of Failure," while tens of thousands at the People's Climate March in Washington criticized his rollbacks of environmental protections and Obama administration climate policies.
But Trump's supporters blamed any shortcomings on obstruction from Democrats.
Fox News, a favorite among conservatives, topped its website with an article praising Trump's record under the headline: "100 days of disruption: How Trump rewrote the presidential playbook as Dems tried to derail plans."
Republicans have rallied behind his one palpable achievement: the appointment of the conservative judge Neil Gorsuch to the Supreme Court.
But warning signs have tempered any positivity, including Friday's Commerce Department announcement that US economic growth slid to its lowest level in three years during the first quarter of 2017.
And the White House is under the cloud of investigations by Congress and the FBI into Russia's apparent interference in last year's US elections, and whether there was any collusion with the Trump campaign.
Rising global tensions are also preoccupying the White House. The United States has pledged to step up sanctions to force North Korea to resume dialogue over its nuclear program, as Trump warned of the risk of a "major conflict" with Pyongyang.