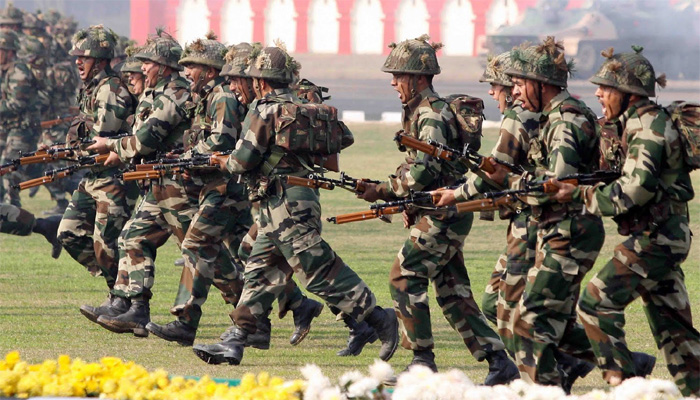 Media from Pakistan reports that India is expanding its military power and as we go through that report it is clear that Pakistan is frightened. Here is the report of pak media:
There appears to be no end to the Indian defence purchases, especially since Narendra Modi came to power. Now there are reports that India is secretly purchasing weapons of billions of dollars on an emergency basis. The weapons that Indians are purchasing include anti-tank missiles, tank engines, rocket launchers, bullets of various calibers and different kinds of ammunition to be used in the battlefield. The secretive weapons shopping spree is more or less now in the open and would have strategic importance in the current scenario.
Reports say that Russia is delivering several thousand anti-tank guided missiles, hundreds of T-90 main battle tank engines and other tank components. On the other hand, the Israelis are delivering unmanned aerial vehicles and several thousand missiles mainly for the Indian Navy.
The Indian Ministry of Defence (MoD) has mapped out that India needs $233 billion to meet its arms and equipment requirements in 11 years. This has been calculated according to the Long Term Integrated Perspective Plan (LTIPP) for 2012-2027.
The Indian Chief of Army Staff, General Bipin Rawat, has talked about the level of "hollowness" in the Indian Army "in case of a two-front war." Hollowness is a military term that describes both lack of stocks of critical items and obsolescence in weapon platforms.
The army wants to equip all of its 382 infantry battalions and 44 mechanized infantry units with a fourth-generation shoulder-fired fire and forget anti-tank guided missile (ATGM) system. India is procuring 321 'Spike' systems, along with 8,356 missiles, from Israel and one medium-range surface-to-air missile (MRSAM) regiment, composed of 18 firing units. The US defense contractor Boeing alone has won bids to supply the Indian military with 10 C-17 Globemaster-III strategic airlift aircraft (worth $4.1 billion), eight P-8I maritime patrol aircraft (worth $2.1. billion), 22 AH-64E Apache and 15 CH-47F Chinook helicopters (both helicopter deals have a combined worth of $2.5 billion). Not to be left behind is the Indian Navy. Six Scorpene class are being built at the Mazagaon Docks expected to join the Navy by 2020. Purchase of six more was cleared in 2015.
Also there is license production for Kamov 226 helicopters in India, purchase of 145 ultralight howitzer artillery guns from the US, purchase of 100 155mm tracked artillery guns, purchase of 280 aero engines from Honeywell for Jaguar aircraft and purchase of five units of Russian-made S-400 advanced air defense systems. The list goes on and on.
One wonders with such massive military purchases, what kind of future India, where millions are still living below the poverty line and lack basic amenities including no proper shelters, would have. What message is the Indian Prime Minister giving to his neighbours? Would India not be better off today had these billions of dollars spent on the welfare of the Indian people?