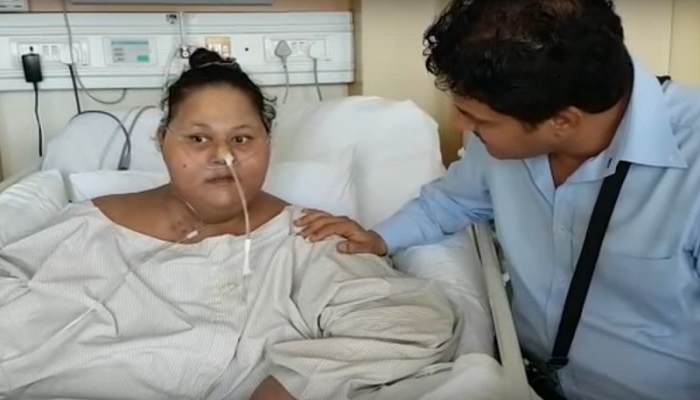 Egyptian woman Eman Ahmed, who was once the heaviest woman in the world, is likely to fly to Abu Dhabi from Mumbai tonight.
Sources at Mumbai airport said a cargo aircraft, turned into an air ambulance is likely to fly Eman at 2am on Wednesday. "A specially-equipped air ambulance will transport Eman to the airport from Saifee Hospital. We are yet to receive the final confirmation," said Mumbai International Airport Limited (MIAL) officials .
Eman arrived in Mumbai on February 11 and underwent a bariatric surgery in March.
She was in the news last week after her sister alleged the hospital's claims that Eman has lost over 300kg are false and called the doctors liars.
Sanet Meyer, director, Medevac, VPS Healthcare, said, "I will head a team of nine specialists, including an intensivist, paramedics and nurses, who will handle Eman's case. The team will accompany Eman on her way back to Abu Dhabi-based Burjeel Hospital."
"We have specialised rooms at Burjeel medical facility, where Eman will be treated for neurological and physiological rehabilitation," said Meyer.
Medical experts from VPS Healthcare were "in the process" of selecting a chartered aircraft for the medical transfer of Eman and had mentioned they were "committed" to transport her on Sunday.
Meyer said a special hydraulic stretcher has been imported from Italy to transport Eman. Five folders containing 10,000 medical records will be given to experts from VPS Healthcare in Abu Dhabi, where Eman will be treated.