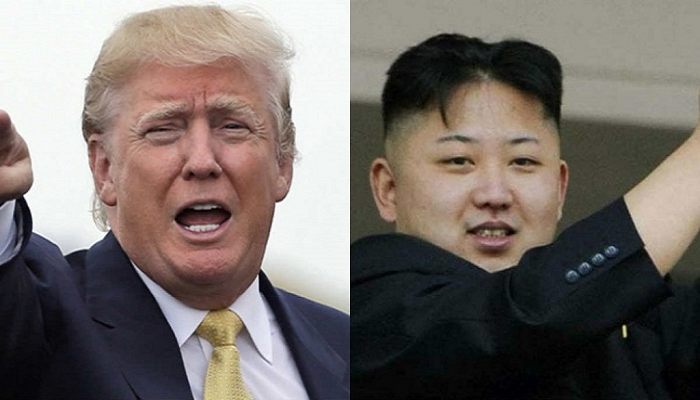 US President Donald Trump on Monday said that he is ready to open the door to meet North Korea's Kim Jong Un, saying he would be honoured to meet the young leader under the right circumstances, even as Pyongyang suggested it will continue its nuclear weapons tests.
"If it would be appropriate for me to meet with him, I would absolutely, I would be honoured to do it," Trump told Bloomberg News in an interview. "Under the right circumstances I would meet with him," he added.
The comments come amid concerns in the US, as well as regional neighbours, about the threat posed by North Korea's nuclear weapons programme in the wake of a number of recent failed missile tests.
Tensions have escalated dramatically in recent weeks as American and other intelligence agencies have suggested the country was readying for a possible nuclear test.
The Trump administration has said all options, including a military strike, are on the table.
At Monday's White House press briefing, spokesman Sean Spicer said "a lot of conditions" would have to be met before any summit meeting, and that North Korea's provocative behaviour would have to be "ratcheted down immediately".
Spicer added that Pyongyang would have to "show signs of good faith" and added: "Clearly the conditions are not there right now."
President Trump has made several complimentary references to Kim, describing him in a CBS interview over the weekend as "a smart cookie". Spicer also offered qualified praise, claiming: "He's obviously managed to lead his country forward," while noting: "He is a young person to be leading a country with nuclear weapons."
In the years since the armistice ending the Korean war in 1953, there has never been a meeting between US and North Korean leaders. In 2000, the then secretary of state Madeleine Albright met Kim's father, Kim Jong-il. There has been no high-level contact since then.
Trump first offered to meet Kim Jong-Un last June, during the election campaign, in order to highlight his differences with Hillary Clinton.
---