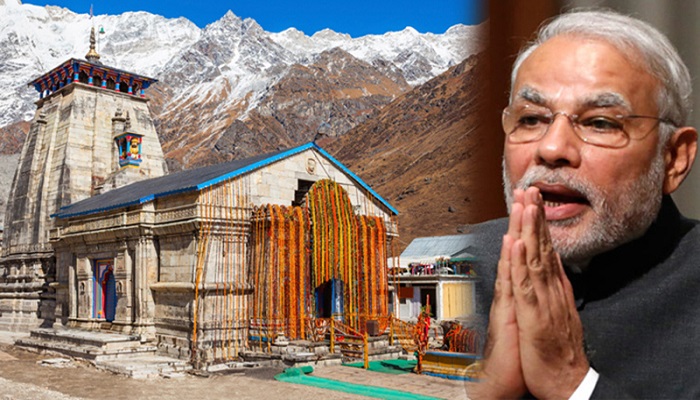 Prime Minister Narendra Modi offers prayer at Kedarnath as the shrine which built in 8th century was opened for devotees today.It reopened after being closed for winter.
Last Prime Minister to visit was VP Singh, who visited Kedarnath 28 yrs ago in 1989 during his tenure.
Accompanied by Uttarakhand Governor K K Paul and Chief Minister Trivendra Singh Rawat, Modi arrived in an army chopper at the helipad built close to the temple and headed straight for the shrine located at a height of 11,755 ft near Chorabari Glacier, the head of river Mandakini.
Braving early morning chill around 4000 devotees had turned up at the temple to witness its ceremonial opening and to catch a glimpse of the Prime Minister.
The temple doors were opened at 8.50 am and the Prime Minister arrived just about half an hour later sporting a brown overcoat and dark glasses to offer prayers and perform a rudrabhishek (ritual bath of the Shiva lingam) in the sanctum sanctorum of the centuries old shrine.
The prime minister took off his shoes and glasses before entering the sanctum sanctorum of the temple through its eastern gate to pay obeisance.
The rituals supervised by the priests of the temple lasted about 20 minutes after which Modi emerged out of the temple and waved to the crowds waiting outside for a glimpse with a broad smile.
He was gifted a shawl, a rudraksha, a wooden replica of the temple and books on the Himalayas by the priests of the temple as he came out of the shrine.
He did a parikrama of the Nandi statue outside the temple before walking through the crowds to make for the convoy that was to take him back to the helipad.
On his way back, the Prime Minister stopped to pat a child in the arms of a soldier. He was seen speaking with the jawan and the child.
The Prime Minister also went to the spot where a huge rock named Bhimshila had rolled down from the mountains in the wake of the June 2013 deluge and was stuck at the back of the temple.
After spending about an hour at the temple, the Prime Minister left in an army chopper for Haridwar.
Modi is the first prime minister to visit the famed temple on the very first day of its opening after the winter break.
Kedarnath is the third and perhaps the most important of the four Himalayan shrines in the chardham circuit to reopen today.
Gangotri and Yamunotri have already opened on the occasion of Akshay Tritiya whereas Badrinath is slated to reopen on May 6 when President Pranab Mukherjee will visit the temple.
People in the state feel the visit by the Prime Minister and the President to Kedarnath and Badrinath will boost tourist arrivals at the two temples by sending the message of a safe chardham yatra to people outside the state.