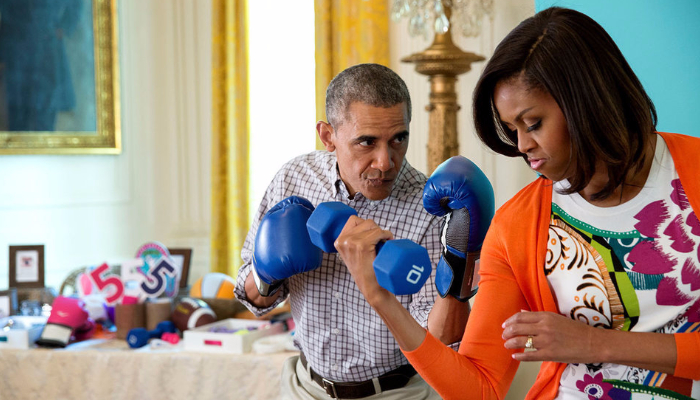 A new biography is shedding light on Barack Obama's personal history.
In Rising Star: The Making of Barack Obama, author David J. Garrow claims that there was another prominent relationship in the former president's life — and that Obama even asked this woman to marry him. The book alleges that Obama twice proposed to Sheila Miyoshi Jager — a former student of anthropology, currently a professor at Oberlin College — in the years before he met Michelle Robinson.
"In the winter of '86, when we visited my parents, he asked me to marry him," Jager tells Garrow, according to The Washington Post. Her answer: "Not yet," but the couple remained together.
The story goes on to detail trouble in the whirlwind relationship, citing Obama's political ambitions.
"He became… so very ambitious," Jager says of the year 1987, when Obama was 25. "I remember very clearly when this transformation happened, and I remember very specifically that in 1987, about a year into our relationship, he already had his sights on becoming president."
Just before entering Harvard Law School in 1988, Obama allegedly asked Jager to postpone her dissertation research in Seoul, Korea, to come with him to Cambridge, Massachusetts, and get married. Jager speculates that he felt compelled to propose again "mostly, I think, out of a sense of desperation over our eventual parting and not any real faith in our future."
Obama met his future wife, Michelle, in 1989 while working at a Chicago law firm, and while the pair became serious, Rising Star claims that Jager had landed a teaching fellowship at Harvard and wasn't entirely out of his life at the time.
"Barack and Sheila had continued to see each other irregularly throughout the 1990-91 academic year, notwithstanding the deepening of Barack's relationship with Michelle Robinson," the author writes, while Jager says that she "always felt bad about it."
By the time Barack and Michelle tied the knot, on Oct. 3, 1992, Obama's ties to Jager are said to have only included an occasional letter or phone call. Specifically, the author says, after the 9/11 attacks and to ask whether a biographer had contacted her.