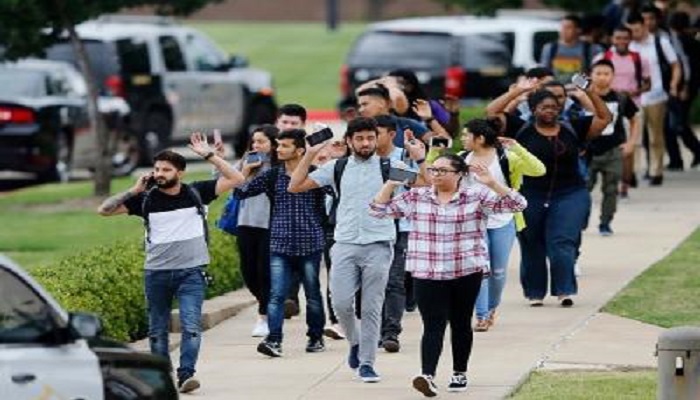 Within a span of days a second attack has occurred in a college in state of Texas.
A gunman open fired on a college campus in Dallas suburb of Irving, Texas, on Wednesday killing one person and the gunman later committed suicide.
The witnesses saw a man armed with a handgun who opened fire at the North Lake College. The firing prompted local authorities to launch a search operation for the suspect. In the meantime, school officials imposed an immediate security "lockdown".
A short time later, Irving police reported on Twitter that there appeared "to be no continuing threat," adding that law enforcement officers were still searching the campus to ensure all was safe.
A separate Twitter post added: "We have what appears to be one victim deceased (and) the shooter has committed suicide."
The identities of the shooter and the victim were not immediately released, and police spokesman James McLellan said it was too early to tell whether the two people knew each other.
No one else was wounded in the shooting, which occurred at one of the main buildings on campus, McLellan said.
After police said the shooter was dead, college officials announced the school would be closed for the rest of the day.
This is the second attack that had happened at a college in Texas. On Monday, a person enrolled at University of Texas went on a stabbing spree with a large hunting knife at the school's Austin campus about 200 miles (320 km) south of Irving, killing one student and wounding three others.