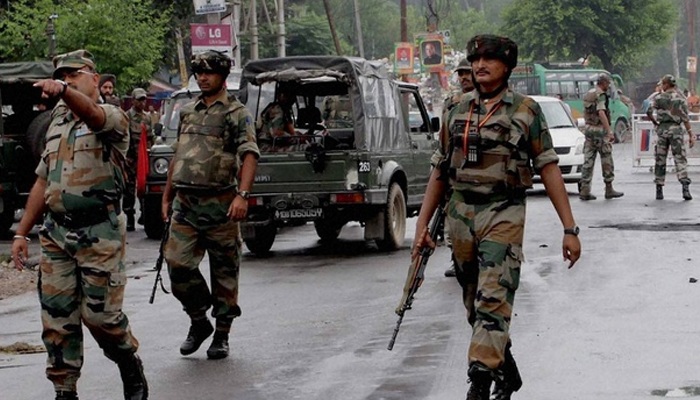 The Army on Wednesday vowed to punish the killers of young Kashmiri Lieutenant Umer Fayaz while defence minister Arun Jaitley called the attack a dastardly act of cowardice by the terrorists.
The bullet-riddled body of 22-year-old Fayaz was found in Harmen area of Shopian in South Kashmir on Wednesday morning, hours after he was abducted by terrorists from Batpura village where he had gone to attend his cousin's wedding.
"I assure the family that the perpetrators of this heinous crime and dastardly act will not be spared," Lt Gen Abhay Krishna, General Officer Commanding-in Chief of South Western Command and Colonel of Rajputana Riffles, said.
Fayaz, hailing from Kulgam in South Kashmir, was with Rajputana Rifles and had taken leave to attend the wedding. He was commissioned into the Army on December 10 last year and according to his colleagues, he was popular for his simplicity and honesty.
Expressing anguish over the killing of the young officer, Jaitley said Fayaz's sacrifice reiterates the nation's commitment to eliminate terrorism from the valley and that he would continue to inspire youth from Kashmir.
"Abduction & murder of Lt Umer Fayaz by terrorists in Shopian is a dastardly act of cowardice. This young officer from J&K was a role model," Jaitley said in a tweet.
"Fayaz was an exceptional sportsman, his sacrifice reiterates nation's commitment to eliminate terrorism from the valley."
Lt Gen Krishna said people of Kashmir will have to rise collectively and hit back at the "cowards and perpetrators" of the heinous crime, adding they can no longer tolerate such tragic losses of their "beloved sons".
"This marks a watershed moment in Kashmir valley and people of Kashmir will decisively turn the tide against terrorism," he said, conveying to family of Fayaz that the Army stands shoulder-to-shoulder with it.
It was for the first time that he had taken leave after joining the Army, a senior official said. He was supposed to have returned to his unit in the Akhnoor area of Jammu on May 25.
The killing caused anger among locals who demanded that the men responsible be identified and punished.
Army officers posted with Rajputana Riffles said Fayaz was loved by his colleagues and he was known for immaculately performing alloted tasks
His father, a farmer, has a small time apple business. Fayaz was part of the hockey team of NDA and he was also an excellent volleyball player.