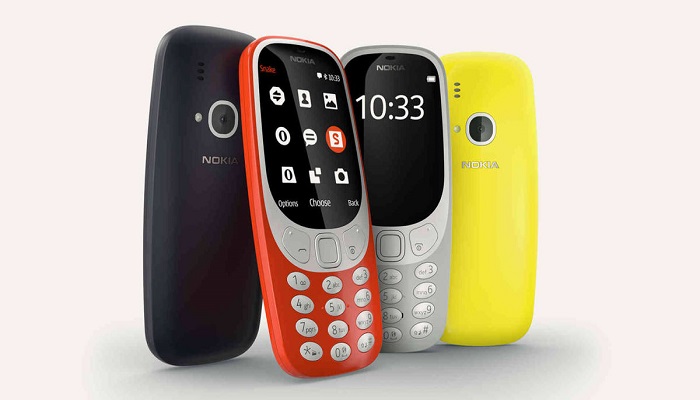 Revamped Nokia 3310 and three other new models — Nokia 3, 5, and 6 by HMD Global will be launched across the Gulf countries in June.
HMD Global is the company that owns the rights to sell Nokia-branded phones and tablets for 10 years. It develops, builds and sells the phones with inputs from Nokia.
"The iconic 3310 will be available from June 1 for Dh199 and the other models after that. The 3310 will be available across 100 countries by June in four different colours — yellow and red in a glossy finish, and blue and grey in matt finish," Sanmeet Singh Kochhar, General Manager for the Middle East at HMD Global said.
It has a 2.4-inch (240 x 320) colour display and a 2MP rear camera compared to the monochrome of the original.
HMD said the Snake game will be snaking its way back into people's hearts with a new version available to play on Messenger, part of Facebook's Instant Games cross-platform experience.
Kochhar said that the 3310 brings together the core of Nokia legacy and coupled with modern finish and design. He said the initial response was overwhelming. It has 30 days of standby time and 22 hours of talk time coupled with the Snake game.
"The unique proposition and the strategic partnerships with trade partners such as Foxconn, Nokia and Google are going to be the key differentiators," he said.
Smartphone users can use the device as a companion device. In the democratisation of technology, he said that HMD's vision is to bring quality, useful and reliability to all of its fans irrespective of their budget or geography.
Asked whether people will buy the 2G device as the world is moving towards 5G, he said that there is a still a significant appetite for 2G phones globally. Quoting a GSMA Intelligence report, he said that 2G technology still accounts for 58 percent of the world mobile connections and it will still maintain its dominance at the beginning of 2019.
At its peak in 2008, Nokia was the world's top mobile phone company. It shipped 468 million handsets, of which 60 million were smartphones. It had a mobile market share of whopping 41 percent then, compared to the current leader Samsung which just had a 19 per cent share in 2016.
Nokia lost its leadership position in 2011 to Samsung and in 2014, sold its business to Microsoft for $7.2 billion (Dh26.44 billion).
But HMD is still making the feature [basic] phones which are still used in many countries, especially in Africa.
According to research firm International Data Corporation (IDC), 215.33 million mobile handsets were shipped in Africa during 2016. Out of this, feature phones totalled 119.97 million units with a 16.1 per cent year-on-year increase compared to 3.4 per cent year-on-year increase in smartphone shipments to 95.37 million units.
This growth saw feature phones increase their unit share of Africa's overall handset market from 53 percent in 2015 to 56 percent in 2016.
"There are people who go for a short vacation and do not want to take their smartphones with them. They prefer feature phones due to its long battery life. We expect to grow our footprint with this device in the Middle East," Kochhar said.