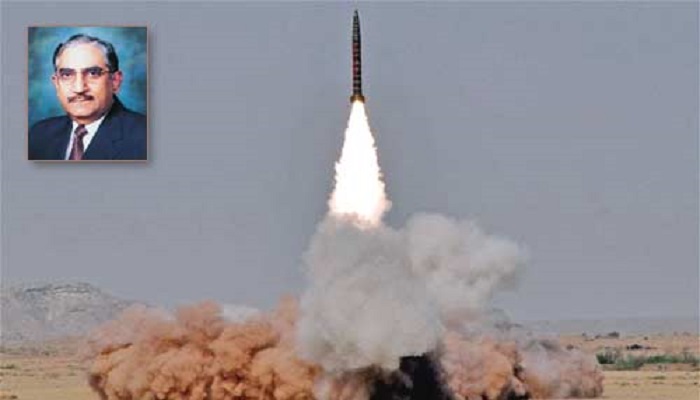 Pakistan's nuclear tests readjusted the regional balance of power and unified the nation. India felt down after Pakistan became nuclear power in 1998.
These views were expressed by Pakistani nuclear scientist Dr Samar Mubarakmand in an interview with Nawa-i-Waqt Sunday Magazine on Friday. Every government had supported the nuclear programme after the Zulfiqar Ali Bhutto's term, he held. The design of Pakistan nuclear weapons is modern, he added. 
"Pakistan's missile technology and nuclear weapons are far better than India. India is trying to destabilise Pakistan through Afghanistan," Dr Samar said. 
He said that Prime Minister Nawaz Sharif had tasked me to test atomic bomb on May 28, 1998. It was decided in 1975 that the atomic tests would be held on Chagai hills, said Dr Samar. Chagai hills were so strong for nuclear tests. I had conduced 20 cold tests before nuclear one, he maintained. 
"No one has ever produced electricity from Thar coal and now a project is being run under the China-Pakistan Economic Corridor programme. We are producing only 10 megawatt electricity instead of 100MWs," the nuclear scientist added. He criticised the delay in project.