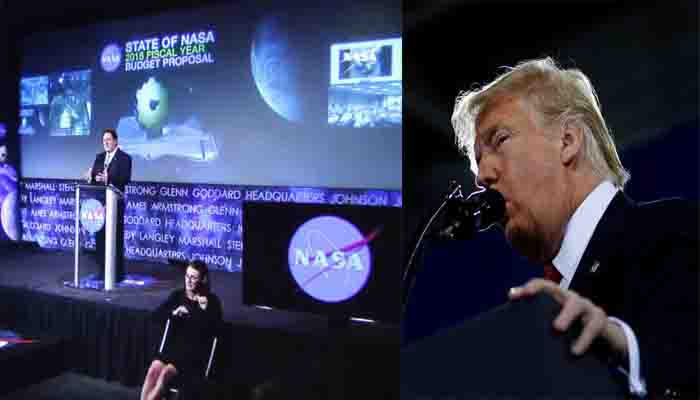 The Trump Administration has proposed a $19.1 Billion NASA budget request for Fiscal Year 2018.  This amounts to a $0.5 Billion reduction compared to the recently enacted FY 2017 NASA Budget.
Although it maintains many programs such as human spaceflight, planetary science and the Webb telescope.
The budget a cuts and terminate NASA's Earth Science and manned Asteroid Redirect Mission as well as the complete elimination of the Education Office.
Overall NASA's FY 2018 budget is cut approximately 3%, or $560 million, for the upcoming fiscal year starting in October 2017.
The cuts to NASA are smaller compared to other Federal science agencies also absolutely vital to the health of US scientific research which suffer unconscionable double-digit slashes of 10 to 20% or more.
The Highlights of NASA's FY 2018 Budget were announced by NASA acting administrator Robert Lightfoot during a 'State of NASA' speech to agency employees held at NASA Head Quarters
"Keep doing what we've been doing. It's very important for us to maintain that course and move forward as an agency with all the great things we're doing" administrator Robert Lightfoot said.
Lightfoot recalled the recent White House phone call from President Trump to NASA astronaut & ISS Station Commander Peggy Whitson marking her record-breaking flight for the longest cumulative time in space by an American astronaut.
Thus Lightfoot's vision for NASA has three purposes – Discover, Explore, and Develop.
Lightfoot further counted the outstanding scientific accomplishments of NASA's Mars rover and orbiters paving the path for the agencies plans to send humans on a 'Journey to Mars' in the 2030s.
Lightfoot also pointed to upcoming near-term science missions- highlighting a pair of Mars landers – InSIGHT launching next year as well as the Mars 2020 rover. Also NASA's next great astronomical observatory – the James Webb Space Telescope (JWST).
JWST is the scientific successor to the Hubble Space Telescope and slated for launch in Oct. 2018.