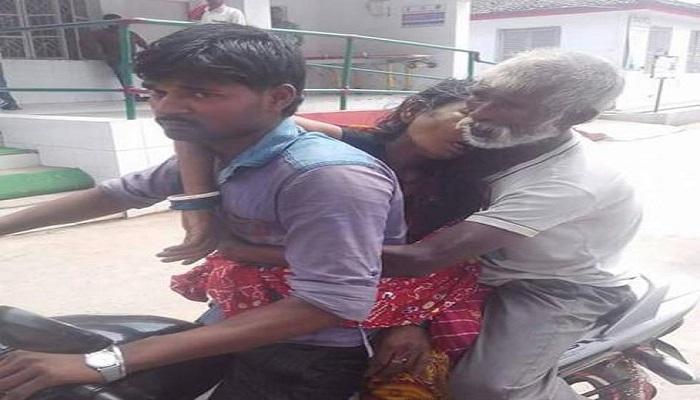 A man in Purnia district of north-eastern Bihar carried his wife's dead body on a motorcycle to reach his village home for her last rites. Shankar Sah could not afford a private ambulance and was denied a Mortuary van at the government hospital.
The 60-year-old is a native of Ranibari village under Shrinagar police station of Purnia district, whose wife, Susheela Devi (50) died of illness at the Purnia Sadar hospital on Friday.
"After the death of my wife I was told to take away the body and when I requested the medical staff on duty for a vehicle, to carry it back to my village, they told me to arrange for it on my own", said Sah.
He approached a private van driver, who asked for Rs 2500, which he could not afford. His son Pappu (32) then placed Susheela's body on a motorcycle and Sah himself held it for support, to transport it to their village home.
Both father and the son work in Punjab as labourers, when they were informed about Susheela's illness, they returned to get her admitted to Purnia Sadar hospital, where she died of her illness.
When asked about the incident, Purnia civil surgeon M M Wasim said, "No mortuary van is available at the Sadar hospital, at present, as the one it had is not functional. So, everyone has to arrange one on his own."
District Magistrate Pankaj Kumar Pal said the incident was unfortunate and he had already ordered a probe into the circumstances in which the woman's body had to be transported on a motorcycle.
"A two-member committee, consisting of an additional district magistrate (ADM) and civil surgeon, has been constituted to go into the incident. The committee has been asked to submit its report within two days" he said.
The incident happened just a day after news footage of the body of a destitute woman being wheeled in a garbage cart to the Sri Krishna Medical College Hospital in Muzaffarpur for post-mortem examination, caused an outrage in the district authorities to initiate an inquiry.