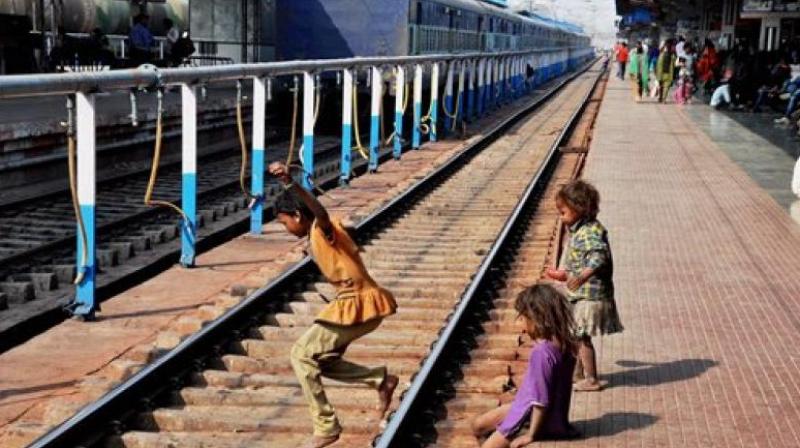 The Railway Protection Force in the Eastern Railway zone has rescued 650 children from different stations and trains and united 251 out of them with their parents, a spokesman of the railway said today.
"RPF, Eastern Railway, has made significant performance in respect of rescue of children and their rehabilitation as well as efficient functioning of security helpline 182 in addition to its normal security related activities," ER spokesman R N Mahapatra said.
"As a result of its alert and vigilant activities, RPF rescued 650 children from April 2016 to May 2017," Mahapatra added.
"Of these children, 251 were united with their parents while the rest of the children were handed over to the NGOs, police or GRP," he further added.
Child help groups have been established at Howrah station where two child help desks — 'Child Line NGO' of Don Bosco Ashalayam and 'Little Big Help' are functioning.
A child help desk monitored by NGO 'Cini Asha' is functioning at Sealdah railway station, the spokesman said, adding that another child help group will be set up at Malda station soon.
Mahapatra said that the RPF has also launched a special campaign —Operation Muskaan-II, to rescue missing children and has so far succeeded in getting back 71 children, including 3 trafficked children.
"Security helpline 182, set up to provide passengers especially women passengers necessary security related assistance, is functioning round the clock at RPF divisional control rooms all over the Eastern Railway," Mahapatra added.
Stating that security related grievances are attended to by quickest means either by the nearest RPF post or by train escorting parties, he said "the average response time to attend each complaint is 20 to 25 minutes."
"During 2016-2017, total 397 complaints were received and settled," he said.
"To create awareness amongst passengers regarding the security helpline number 182, pamphlets are regularly distributed among passengers and stickers have also been affixed at prominent places at stations as well as in trains. RPF teams are also regularly visiting schools and colleges for spreading awareness about the security helpline and distributing leaflets containing salient features of the helpline," he added.