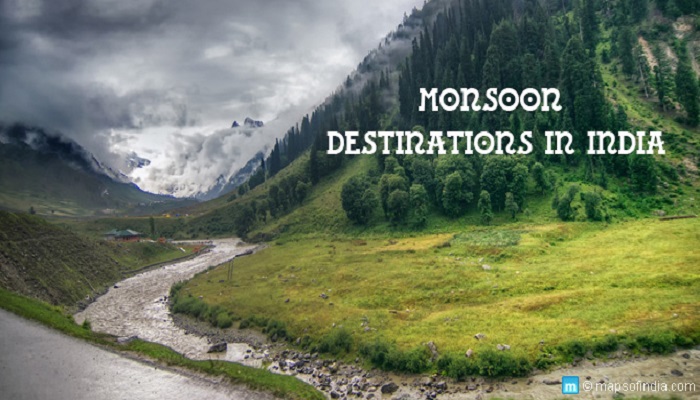 Monsoon in India is probably the most awaited time of the year. Not only does it bring with it hope for better weather, but it brings with it cool breezes and pleasant winds that can instantly change your mood. Whether you stay at a hill station, by the beach or a crowded metropolitan city, monsoons in India are definitely special. While in some places it makes the heat bearable, in some others, it brings the clouds closer to you.
Here are some places you can visit and enjoy the monsoon.
1. Mount Abu, Rajasthan
Mount Abu is popular for being the only hill station in the desert state, Rajasthan. Located near the Gujarat-Rajasthan border, Mount Abu is surrounded by the Aravali range. It is home to the stunning Nakki Lake and the Mount Abu Wildlife Sanctuary, the most popular tourist destinations here. Mount Abu is home to various resorts and hotels that ensure a comfortable stay.
2. Kodaikanal, Tamil Nadu
Kodaikanal, the princess of hill stations is one of the most beautiful hill stations in India. Beautiful weather and the picturesque landscapes make it difficult for you to leave the gorgeous lake destination. Kodaikanal is also one of the places in India that make you feel like you're floating in the clouds.
3. Lonavala, Maharashtra
While for most Mumbaites, Lonavala is one of the most done-to-death weekend getaways, it is yet one of the crowd's favourite! Yes, it does get a tad crowded with the number of people getting away from the city. However, there's just about enough space to accommodate your vehicle, your gang and you.
4. Cherrapunji, Meghalaya
Known to be one of the wettest places in the world, Cherrapunji is home to the magnificent living root bridges along with the breath taking Nohkalikai Falls which will definitely leave you dumbfounded. The vast green forests and the sky-high hills are a getaway from the busy city lives.
5. Leh, Jammu and Kashmir
Keeping the best for last, not only Leh but the whole Ladakh valley is a stunning destination to visit during the monsoons. While the monsoons are considered to be the off-season for travel in most Indian regions, Ladakh is one of the few places that are accessible only for a few months (May to October), making it a must-visit destination this time of the year.