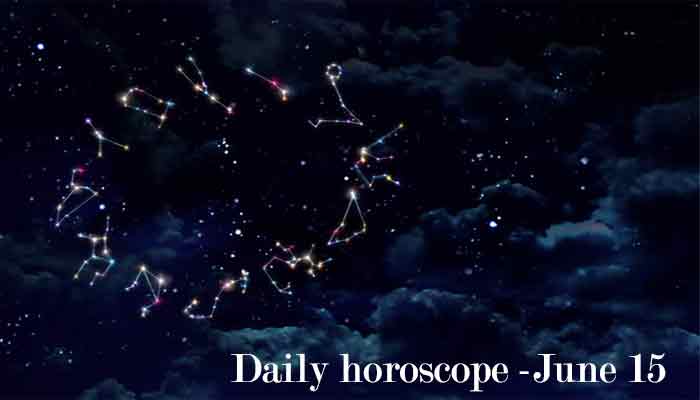 Aries 
A slightly troublesome day, but you can finally get a handle on the situation. You may feel that things are not moving at the pace you like, but be patient and a nagging problem should get sorted out on its own. Don't let your emotions run on high octane gasoline, as your sweetheart may be unpredictable.
Taurus 
The day has a positive emphasis on your career and a coveted goal is likely to be within your reach. This is the right time to meet with superiors and present those innovative ideas. Your attention moves on to matters concerning your financial security. True love feels it might be developing, as your sweetheart begins to share secrets with you.
Gemini 
You may be in a negative frame of mind today for no apparent reason, Gemini. Don't overreact to a comment during a light group discussion and guard against mistakes in judgment. Your quick wit can save you from a financial loss. Your beloved could pop a surprise on you when you least expect it.
Cancer 
You could get into financial trouble today, but your associates will come forward to the rescue. As the door of opportunity begins to open, you may be tempted to do too much and then find yourself working at a tangent to those around you. You need to share all your hopes as well as worries with your sweetheart.
Leo 
Don't go out on a limb, but if you extend a helping hand to someone in trouble, this brings you a deeper satisfaction. Your doubts about future insecurities may be unfounded. A recent gesture of kindness is rewarded now. You'll have to adjust with other chores to spend some time with your love.
Virgo 
It's a good day to discuss your objectives with those who can help you out. Expect positive news about a legal concern. Co-operative endeavours are especially favoured today, so focus on the smaller details and you should see a significant improvement around you. In romance, you may be up for anything and everything.
Libra 
Take steps to review your goals, and don't take people for granted. Expect a call from a distant place that should bring a solution. A wise approach in financial matters is needed here, though an expensive purchase is an issue at home. Unkept promises can generate heat in personal matters. You'll be in the mood to enjoy mutual interests with your beloved.
Scorpio 
Your spirits may be lower than usual so you may want to keep yourself busy. It's quite possible that you land a money or business opportunity, but an immediate decision may present a challenge. Though an offer may be for the short term, try to make the most it. Entertainment plans with your partner will be very refreshing.
Sagittarius 
A long-standing problem is finally resolved, which gives you great satisfaction. Mixing business and pleasure works to your advantage today and you can expect proper remuneration for the endeavours you've put in recently. It's time to explore new learning courses that will augment your skill set. The fire of passion can flash like lightning.
Capricorn 
Business prospects begin to look brighter but appraise your options realistically. You may need as much time to yourself as possible. One of your associates may need some short-term assistance from you. Conditions are good for getting a new relationship off the ground. Romance mingled with fantasy should be more enjoyable.
Aquarius 
Today you feel a bit more enthusiastic, Money- wise, you could feel the pinch, but spending on entertainment and social obligations just seem so unavoidable. Too many things may be playing in your mind at once. Who, you? Only the most important work is likely to be completed, but in the field of romance, an enchanting and exotic atmosphere promises to ignite your desires.
Pisces 
A rather intrusive day, so guard your privacy and get ready to handle a heavy workload. This is a good time for turning over a new leaf where money matters are concerned. A light-hearted meeting may turn into something much more serious. Follow your instincts when dealing with matters of the heart.